Everyone knows that Patio lights are an incredible addition to any backyard, deck, or patio. Whether you've seen them at a friend's or family member's home, an outdoor patio at your favourite local restaurant, or even when scrolling online, there is a magical atmosphere wherever they are.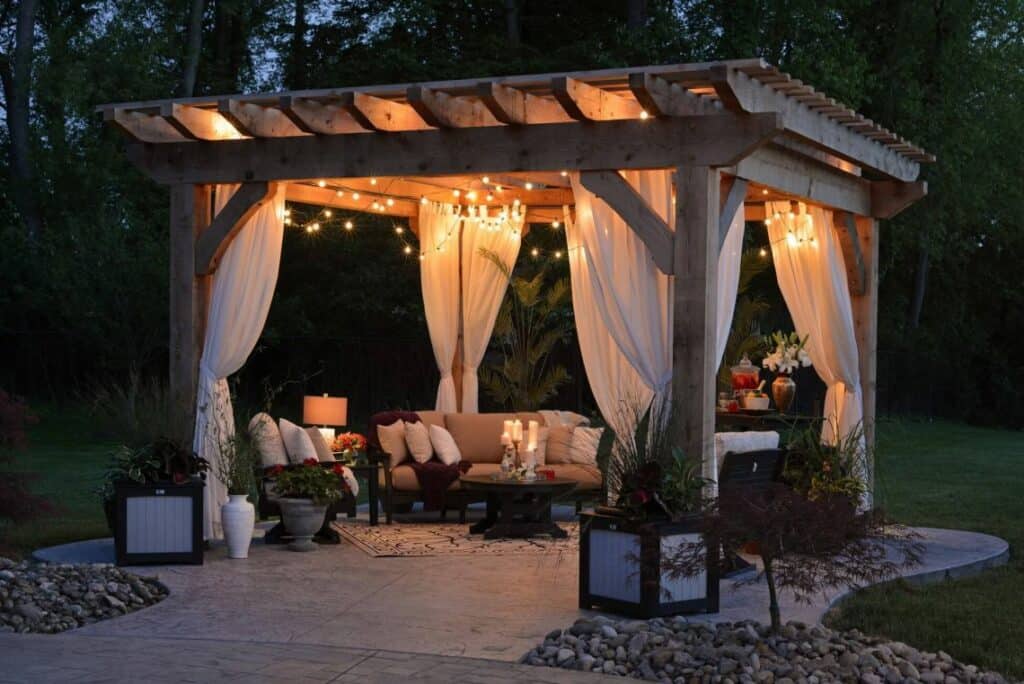 Are you ready to get some of these modern lighting elements hung up on your property? There are two options for you as a homeowner! Option 1: Buy an energy-efficient LED patio light from a local hardware store or online retailer and hang them up yourself. OR Option 2: Contact your local Five Star Holiday Decor company and have our team of professional light installers take care of your lighting needs from beginning to end. 
Regardless if you plan on installing them yourself or if you're looking to have our team install them for you, here is the general guide on how to hang patio lights in your yard!
Depending on the layout of your home, the direction you would like your lights to go, and the access to power, this will determine where you start the main anchor point of your patio lighting system.
If you're looking to do a Triangular lighting pattern, our team at Five Star Holiday Decor would start from the tallest point at your property and then evenly space your light strands apart in the direction that you are looking to cover. Each strand will then meet a separate anchor point and be custom fit to this exact length. During this process, our team of professional light installers will ask you how much give you would like your light strands to have as some clients prefer a tight line while others like the relaxed look of additional slack. 
If you're looking to do a Zig-Zag lighting pattern, our team of professional light installers at Five Star Holiday Decor will create either a parallel or varying heights zig-zag pattern across your property for a touch of light across your entire space. This will help create a warm ambiance without being too intense. This is the perfect option for outdoor living spaces or fire areas. Where to start? 
If you're looking to do a Criss-Cross lighting pattern, the first step that our team of installers will determine is if you are looking for parallel heights across your anchor points or alternative varying heights for additional design features. This is definitely the lighting pattern option if you are searching for optimal light coverage across your property.
If you're looking to add lighting across a pergola, a parallel lighting pattern may be the option for you! Brining a modern look to your space, a parallel lighting package will be a great addition over an outdoor dining space. In order to properly install these, it's important to line up your anchor points directly from one another, with proper spacing in between, and to keep your line tight. This will help create that pristine look you're searching for. 
Now that you've found the perfect light pattern for your home's layout, it's always important to start your line of outdoor string lights/patio lights near your power source in order to hide as much of your outdoor string lighting cord as possible. Then you will have to set your anchor points across your property including determining the areas where you want to put nails and potentially outdoor string lighting without nails. This could include areas such as a vinyl fence, on siding, or on brick. This will help customize your space to the exact look that you're visioning and let you make focal points around your property. 
After you have your pattern and anchor points laid out, it's time to start stringing! Remember to keep an eye on the tense of the line for the look that you're visioning. If you're looking for a more relaxed vibe, give it some more slack! If you're looking for a professional and modern style, keeping it tighter is the way to go. After installing your light to the proper lengths, an appropriate end will be placed on the light and fully secured.
Ready to start your patio lighting project this Spring? Whether you're looking to do it yourself or have our team at Five Star Holiday Decor professionally install them, make sure to reach out to our team for your free design consultation!