Residential Lighting
Commercial Lighting
Municipal Lighting
Festival Lighting
Christmas Lighting
Christmas: A Crowd Favorite Holiday
If you asked the public what their favourite holiday was, what do you think they would say? Sure, we all love the candy and shenanigans that come with Halloween. We enjoy the camaraderie and food during Thanksgiving. But do you know what holiday has all that and more? Christmas! Christmas may very well be one of the holidays people enjoy most, and for good reason.
The family is all together, food smells are seeping in from the kitchen, family traditions are being practiced, gifts are waiting patiently under the tree, kids are running around decidedly not patiently, and, best of all, the holiday lights are shining bright. Check out our comprehensive Christmas Lighting options below. We look forward to helping you light up your holiday season!
Residential Lighting
Light up your home!
At Five Star Holiday Décor, we understand that we're not just working at a job site, we're working at your home. We are guests there and we understand that your life doesn't stop just because we're there. We respect this by being clean, on time, and as unobtrusive as possible. Our team of professional lighting technicians would be more than happy to help you light up your home and property this holiday season.
Increase holiday cheer
Reduce shadows
Light up your home and yard
Learn More
Commercial Lighting
Light up your business!
Lighting up your business for the holiday season can bring in new customers, increase employee engagement, and make your business stand out. Make a great first impression on every customer, old and new, by bringing holiday spirit to your property this year!
Attract more customers
Increase holiday season sales
Improve employee outlook
Learn More
Municipal Lighting
Light up your community!
The Five Star Holiday Décor team loves decorating for municipalities. Larger public spaces are often perfect for designing and installing unique creative projects. From simple tree illuminations to intricate building displays, municipal holiday lighting can bring joy to the community and enhance community engagement.
Increase community engagement
Attract tourists and visitors
Facilitate joyous holiday memories
Learn More
Festival Lighting
Light up your festival!
If you are looking for dazzling lighting installations for a holiday festival, we are the professional lighting company for you. Whether it is a lively street festival or a dazzling family-friendly event, we can design and install a lighting solution that perfectly aligns with your festival vision.
Attract more attendees
Increase publicity of your festival
Keep attendees safe
Learn More
A Stunning Display of Christmas Lights
Leave a lasting impression on the whole neighborhood!
Our Service Locations
Full Service Christmas Light Installation
Embrace the enchantment of the holiday season with our expert Christmas lighting installation services, now serving Edmonton, Calgary, Airdrie, Cochrane, and Chestermere. Our convenient and all-inclusive service streamlines the decorating process, offering a stress-free solution for residents, businesses, and municipalities alike. Allow us to turn your surroundings into a festive masterpiece, ensuring your Christmas lighting radiates warmth and creates enduring memories.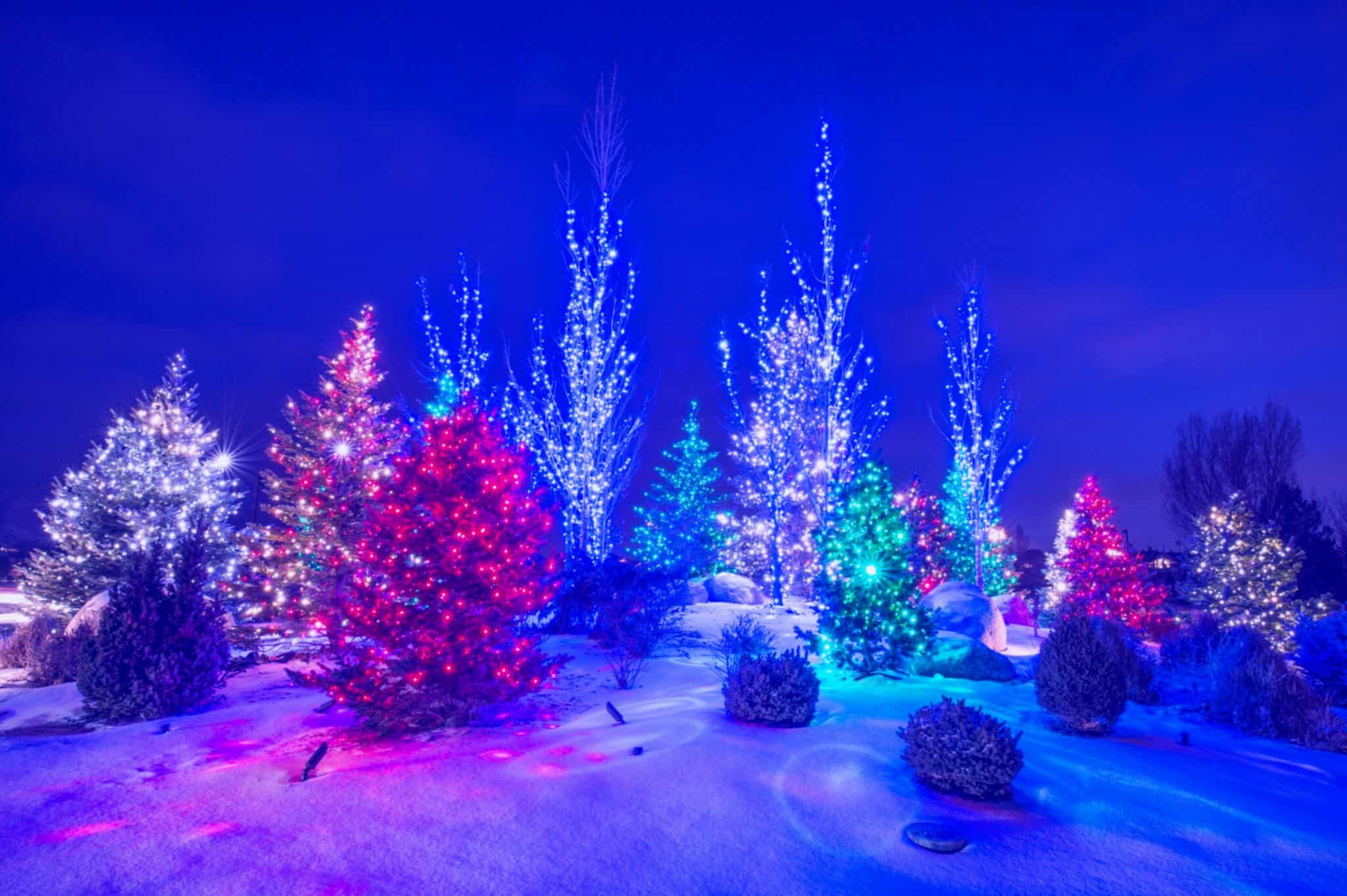 Light Up Your Holiday Season
Get a free estimate from Five Star Holiday Décor today!
Frequently asked questions
We now have an FAQ list that we hope will help
you answer some of the more common ones.
1. How does professional Christmas lighting enhance the holiday experience at home?
1. Festive Atmosphere: Professional lighting creates a warm and festive ambiance that instantly puts you in the holiday spirit. The soft glow of lights, carefully placed around your home, adds a magical touch to the season.
2. Time and Effort Savings: Hiring professionals means you can enjoy the beauty of holiday lights without the hassle. We handle everything from design and installation to maintenance and removal, saving you time and effort.
3. Customized Designs: We work closely with you to create a lighting design that suits your preferences and complements your home's architecture. Whether you prefer a classic, elegant look or something more creative and unique, we've got you covered.
4. Safety and Durability: Our professional technicians ensure that all electrical connections are safe and secure, reducing the risk of hazards. Plus, we use high-quality, durable lighting to withstand the winter weather.
5. Memorable Impressions: Professionally lit homes make a lasting impression on visitors and passersby. Your beautifully decorated home can become a neighbourhood focal point and create memorable moments for your family and guests.
2. What types of lighting options are available for commercial properties?
When it comes to lighting options for commercial properties during the holiday season, there is a wide range of choices to suit different needs and styles. Here are some of the common lighting options available for commercial properties:
String Lights: String lights are versatile and can be used to outline buildings, wrap pillars, and decorate outdoor spaces. They come in various colours and shapes, including traditional bulbs or more modern LED options.
Icicle Lights: Icicle lights mimic the appearance of icicles and are often used along the eaves or rooflines of commercial buildings. They create a dazzling, cascading effect and are available in white or multicolour variations.
Net Lights: Net lights are designed to cover large areas quickly and evenly. They are often used to drape over bushes, trees, or large outdoor displays, providing a uniform blanket of light.
Wreaths and Garlands: Decorative wreaths and garlands adorned with lights can be hung on the exterior of buildings, around doorways, or along railings. They add a classic and welcoming touch to commercial properties.
Animated Displays: Animated lighting displays incorporate moving parts and can tell a story or create a dynamic visual experience. These are great for drawing attention and creating a memorable display.
LED Projection Lighting: LED projectors are used to cast animated or themed images onto buildings or surfaces. They can create captivating displays with minimal effort.
Commercial-Grade Tree Lighting: If your commercial property features trees, professional lighting services can wrap trees with string lights or install tree-mounted displays to make them stand out beautifully.
Customized Displays: Professional lighting companies can create custom lighting designs to match your brand or theme, ensuring your commercial property's decorations are unique and eye-catching.
Interactive Displays: Some modern lighting systems can be controlled remotely, allowing you to change colours, patterns, or animations to engage with customers or passersby.
Energy-Efficient Options: Many commercial lighting options are available in energy-efficient LED varieties, which not only reduce energy consumption but also lower operational costs.
The choice of lighting options for your commercial property will depend on your specific goals, budget, and the desired visual impact. Professional holiday lighting services can help you select and install the right lighting elements to create a festive and attractive atmosphere that aligns with your business objectives.
3. Can you explain the benefits of municipal holiday lighting for communities?
Municipal holiday lighting brings a multitude of benefits to communities, enhancing the festive spirit and fostering a sense of togetherness. Here are several key advantages:
Boosts Community Spirit: Municipal holiday lighting creates a shared experience that fosters a strong sense of community spirit and pride. It brings residents together to celebrate the holiday season collectively.
Enhances Community Engagement: The visual appeal of holiday lighting installations attracts residents and visitors alike to public spaces. This engagement can lead to more community events, increased participation, and a tighter-knit community.
Attracts Tourists and Visitors: Eye-catching holiday lighting displays can draw tourists and visitors to your community, benefiting local businesses and the local economy. This influx of visitors can have a positive impact on restaurants, shops, and other establishments.
Creates Joyous Memories: Municipal holiday lighting installations create lasting memories for both residents and visitors. Families and individuals alike can enjoy the beautiful displays and create traditions around visiting these festive areas.
Community-Centered Activities: Municipal holiday lighting can be the focal point for various community activities, such as tree-lighting ceremonies, parades, and holiday markets. These events bring people together for fun and celebration.
Promotes Safety: Well-lit public spaces during the holiday season enhance safety for pedestrians and drivers. Adequate lighting reduces the risk of accidents and promotes a safer community environment.
Positive Public Image: A community that invests in holiday lighting demonstrates care for its residents and visitors. This commitment to enhancing the holiday spirit and community aesthetics improves the public image of the municipality.
Year-Round Benefits: The positive impact of municipal holiday lighting often extends beyond the holiday season. It can inspire community pride and engagement throughout the year, creating a sense of belonging.
Local Tradition: Over time, holiday lighting can become a beloved community tradition, something residents look forward to each year. It adds a unique cultural element to the community's identity.
4. What unique creative projects can you design for municipalities and public spaces?
Our expertise at Five Star Holiday Decor extends to crafting imaginative and unique holiday lighting projects for municipalities and public spaces. Here are some creative projects we can design to make your community shine:
Themed Lighting Displays: We can create lighting displays that follow a specific theme, such as a winter wonderland, a festive forest, or a holiday village. These themed displays can be tailored to your community's unique identity and preferences.
Giant Holiday Ornaments: Enormous, eye-catching holiday ornaments suspended in public spaces can add a touch of whimsy and enchantment to your community.
Animated Light Shows: Dynamic light shows set to music or narratives can captivate audiences and become a must-see attraction in your community during the holiday season.
3D Illuminated Sculptures: Three-dimensional sculptures created from lights can transform public spaces into enchanting environments, showcasing holiday symbols like snowflakes, reindeer, or angels.
Building and Facade Lighting: Elaborate lighting designs on municipal buildings, facades, and landmarks can add a touch of grandeur to your community's holiday decorations.
Tree Lighting Spectacles: Elevate your community's holiday tree lighting ceremony with synchronized lighting effects, music, and interactive elements that engage the audience.
Street and Park Illuminations: Lighting up streets, parks, and walkways with decorative lighting installations can create a magical atmosphere throughout your community.
Unique Tree Decorations: Decorative tree ornaments and lighting arrangements can turn ordinary trees into captivating holiday focal points.
Artistic Light Installations: Collaborate with local artists to create temporary light installations that showcase the creativity and talent within your community.
Storytelling Displays: Combine lights with storytelling elements to create narrative-driven displays that captivate and entertain.
5. How can festival lighting installations make holiday events more attractive and memorable?
Festival lighting installations play a pivotal role in enhancing the allure and memorability of holiday events in several exciting ways:
Visual Impact: Striking lighting displays instantly capture attention and set the festive mood, making your event more visually appealing and inviting to attendees.
A Magical Atmosphere: Festive lighting creates a magical ambiance that transports attendees into a world of holiday wonder and joy, leaving a lasting impression.
Theme Reinforcement: Lighting can be customized to match event themes, adding coherence and depth to the overall experience, whether it's a winter wonderland, a Christmas market, or a holiday parade.
Increased Attendance: Well-lit festivals tend to attract larger crowds, boosting attendance and making your event a vibrant gathering place for the community.
Enhanced Safety: Adequate festival lighting improves safety for attendees by illuminating walkways, paths, and event areas, reducing the risk of accidents.
Photogenic Moments: Festive lighting installations provide excellent photo opportunities for attendees, encouraging them to capture and share their experiences on social media, which can help promote your event.
Unique Visual Elements: Lighting displays can incorporate unique and imaginative elements, such as illuminated art installations, animated scenes, or larger-than-life holiday characters, all of which add to the event's charm.
Increase Time Spent: Attendees are more likely to spend extended periods at an event with captivating lighting, leading to increased engagement and revenue opportunities for vendors and organizers.
Tradition and Anticipation: Consistent use of festival lighting year after year can create a sense of tradition, making attendees eagerly anticipate the event's return.
Brand Recognition: Customized lighting designs can reinforce your event's branding and help it stand out as a unique and must-attend holiday celebration.
By incorporating festival lighting installations into your holiday events, you not only make them more attractive and memorable but also create a cherished tradition that brings joy to your community year after year. It's a powerful way to make holiday events truly shine.
6. Do you provide customized lighting solutions for specific themes or preferences?
Absolutely! At Five Star Holiday Decor, we take pride in offering fully customized lighting solutions tailored to your unique themes and preferences.
Here's how our customization process works:
Theme Collaboration: We start by working closely with you to understand your vision and theme for your holiday lighting project. Whether it's a traditional, modern, whimsical, or entirely unique concept, we're here to bring it to life.
Design Expertise: Our team of experienced designers and technicians can transform your ideas into stunning lighting designs that match your desired aesthetic and ambiance.
Colour Palette: You can choose the colour palette that suits your theme best. Whether you prefer classic red and green, elegant white and gold, or any other combination, we have a wide range of lighting options to accommodate your choices.
Custom Elements: We can incorporate custom elements into your lighting displays, such as unique shapes, logos, or symbols that hold significance for your organization or community.
Themed Installations: If you have a specific holiday theme or narrative in mind, we can create lighting installations that tell a story and engage your audience, making the experience even more memorable.
Brand Alignment: If you're a business or organization, we can align your lighting with your brand identity, ensuring that your holiday decorations reinforce your message and branding.
Unique Challenges: We welcome unique challenges and creative requests. Whether you have a particular architectural feature to highlight or a specific visual effect in mind, we're up for the task.
Budget Flexibility: We work with a range of budgets, so you can enjoy a fully customized lighting solution that fits your financial constraints.
Ongoing Collaboration: Throughout the process, we maintain open communication and collaborate with you to ensure your vision is realized. Your feedback is invaluable to us.
Whether it's for a residential property, a business, a municipality, or a holiday festival, our commitment to customization allows us to create lighting displays that align perfectly with your themes, preferences, and objectives, making your holiday lighting truly one-of-a-kind and memorable.
7. What sets Five Star Holiday Decor apart in terms of professionalism and customer service?
At Five Star Holiday Decor, we pride ourselves on our unwavering commitment to professionalism and exceptional customer service, which sets us apart in several ways:
Years of Experience: With years of experience in the holiday lighting industry, we bring a wealth of knowledge and expertise to every project. Our team is well-versed in the latest lighting trends and technologies.
Highly Skilled Technicians: Our professional lighting technicians are skilled, trained, and certified to ensure that all installations are carried out safely and efficiently.
Customized Solutions: We don't offer one-size-fits-all solutions. Instead, we collaborate closely with our clients to provide customized lighting designs that match their unique vision and preferences.
Exceptional Attention to Detail: We pay meticulous attention to every detail of your lighting project, from design and installation to maintenance and removal, ensuring a flawless result.
Safety First: Safety is our top priority. We follow strict safety protocols to ensure that all electrical connections are secure and that installations are free from hazards.
Timeliness: We understand the value of your time. Our team arrives promptly for installations, adhering to schedules that are convenient for you, and minimizing disruptions.
Hassle-Free Service: We offer comprehensive services, including set-up and takedown, so you can enjoy the beauty of holiday lighting without the hassle.
Transparent Pricing: Our pricing is transparent, with no hidden fees. We provide detailed quotes, so you know exactly what to expect.
Customer Satisfaction: Our ultimate goal is your satisfaction. We work diligently to ensure that your holiday lighting experience exceeds your expectations.
Year-Round Support: We provide ongoing support throughout the holiday season. If you encounter any issues with your lighting display, we're just a phone call away to provide timely maintenance and repairs.
Environmental Responsibility: We offer energy-efficient LED lighting options to help reduce energy consumption and lower your carbon footprint.
Community Engagement: We actively engage with communities and local businesses, contributing to the holiday spirit and enhancing the visual appeal of public spaces.
Our unwavering commitment to professionalism, customer satisfaction, and safety ensures that your holiday lighting experience with Five Star Holiday Decor is smooth, enjoyable, and truly exceptional. We take pride in making your holiday season shine brightly and hassle-free.
8. How early should I book your Christmas lighting services to ensure availability during the holiday season?
Booking our Christmas lighting services early is essential to secure your preferred installation dates and ensure availability during the busy holiday season.
Here's why early booking is highly recommended:
Limited Availability: The demand for professional holiday lighting services is high during the holiday season. By booking early, you have a better chance of securing your desired dates and times.
Customization Time: Early booking allows us more time to work with you on customizing your lighting design to meet your specific themes and preferences. It ensures that your holiday decorations align perfectly with your vision.
Scheduling Convenience: Early booking lets you choose installation dates that are most convenient for your schedule, ensuring minimal disruption to your daily routine.
Planning and Preparation: We need time to plan, source materials, and prepare for installations. Early booking allows us to ensure we have all the necessary resources and equipment in place.
Peace of Mind: Booking early provides peace of mind, knowing that your holiday lighting arrangements are secured well in advance. You won't need to worry about last-minute scheduling conflicts or unavailability.
Avoiding Rush: Waiting until the last minute can lead to rushed installations, which may not yield the best results. Early booking allows for a more thoughtful and meticulous approach to your lighting project.
Satisfaction Guarantee: Early booking increases the likelihood of a successful and satisfactory experience, as it gives us ample time to address any specific requests or adjustments you may have.
To ensure that your holiday lighting project goes smoothly and meets your expectations, we recommend booking our services as early as possible. Typically, we begin booking for the holiday season well in advance, often starting in the summer or early fall. This ensures that you can enjoy a stress-free and beautifully illuminated holiday season.
9. Are your lighting installations energy-efficient and environmentally friendly?
Yes, our lighting installations at Five Star Holiday Decor are designed to be energy-efficient and environmentally friendly. Here's how:
LED Lighting: We primarily use energy-efficient LED (Light Emitting Diode) lighting for our installations. LEDs consume significantly less energy than traditional incandescent bulbs, reducing your electricity consumption and utility costs.
Lower Environmental Impact: LED lights have a smaller carbon footprint compared to traditional bulbs. They produce less heat and fewer greenhouse gas emissions, contributing to a more sustainable environment.
Longevity: LED lights have a longer lifespan, which means they need to be replaced less frequently. This not only reduces maintenance costs but also decreases the amount of waste associated with replacing bulbs.
Safety: LED lights operate at lower temperatures, reducing the risk of fire hazards and ensuring safety for both indoor and outdoor installations.
Customizable Brightness: LED lights are highly customizable, allowing you to adjust the brightness and colour of your display. This flexibility ensures that your lighting is energy-efficient while still meeting your aesthetic preferences.
Reduced Energy Bills: The energy savings from LED lighting can lead to lower electricity bills during the holiday season, making it a cost-effective choice for both residential and commercial clients.
Minimal Light Pollution: LED lights are directional and produce less light pollution compared to traditional lighting sources, helping to preserve the natural beauty of the night sky.
Environmentally Responsible Practices: We follow environmentally responsible practices throughout our projects, including proper disposal and recycling of materials when necessary.
Our commitment to energy-efficient and environmentally friendly lighting not only benefits our clients but also contributes to a more sustainable and eco-conscious approach to holiday decorating. It's part of our dedication to providing the best service while minimizing our environmental impact.
10. What maintenance and removal services do you offer after the holiday season ends?
At Five Star Holiday Decor, our commitment to exceptional service extends beyond the installation of holiday lighting. We provide comprehensive maintenance and removal services to ensure a hassle-free experience after the holiday season ends. Here's what our services include:
Post-Season Inspection: After the holiday season, we conduct a thorough post-season inspection to assess the condition of the lighting displays. This allows us to identify any issues that may need attention.
Prompt Takedown: We schedule a convenient time for the takedown of your holiday lighting, ensuring it is removed safely and efficiently.
Storage Solutions: If you prefer not to store your holiday lighting yourself, we offer storage solutions to keep your lights in pristine condition until the next season.
Repairs and Replacements: Should any bulbs or components require repair or replacement, we take care of them promptly to ensure that your lighting is in perfect working order for the next holiday season.
Cleaning and Maintenance: We clean and maintain the lighting elements, ensuring they are free from dirt, debris, and weather-related wear and tear.
Customizable Services: Our maintenance and removal services are highly customizable to meet your specific needs and preferences. We tailor our services to ensure your complete satisfaction.
Year-Round Support: If you encounter any issues with your lighting display throughout the year, we provide year-round support and repairs, ensuring that your investment continues to shine brightly.
Timely Service: We aim for efficiency and timely service to minimize disruptions to your routine during the post-holiday season.
Our maintenance and removal services are designed to make the transition from the holiday season as seamless as possible. We handle all aspects of your holiday lighting project, from start to finish, so you can enjoy the beauty of the season without any worries.