Permanent LED Lighting
Year-round Holiday Lights
Long Lasting Christmas Lighting
Permanent LED Lighting Installation Services
Permanent Outdoor Christmas Lights
Installation Services for Stunning Permanent LED Lights in Edmonton and Calgary
Are you ready to illuminate your space with captivating year-round brilliance? Look no further! At Five Star Holiday Decor, we specialize in providing the best permanent LED lighting solutions that will transform your surroundings into a stunning spectacle, no matter the occasion.
Year-round Holiday Lights
Our permanent LED lighting is the ideal choice for those who want to enjoy the magic of dazzling lights throughout the year.
Whether you're looking to create an enchanting atmosphere for your home's outdoor spaces, highlight the beauty of your landscaping, or add a touch of elegance to your patio, deck, or soffit, our versatile lighting solutions have you covered.
Customized LED Lighting Solutions
Our experts work closely with you to create a tailored LED lighting design that suits your unique style and needs. Whether you have a specific vision in mind or need guidance on the best lighting options for your space, we're here to bring your ideas to life.
Versatile LED Lighting for Every Space
Our permanent LED lights are not limited to one season or occasion. They can be seamlessly integrated into a variety of applications, including:
Tree Lighting: Illuminate your trees with a warm and inviting glow, enhancing the beauty of your outdoor spaces.
Patio Lighting: Create a cozy and welcoming ambiance on your patio for evenings of relaxation and entertainment.
Landscape Lighting: Highlight the unique features of your landscaping, turning your garden into a work of art.
Soffit Lighting: Add elegance and curb appeal to your home with tastefully designed soffit lighting.
Deck Lighting: Make your deck an inviting space for gatherings and celebrations with custom deck lighting solutions.
Five Star Holiday Decor is your Celebright Permanent Lighting dealer in Edmonton and Calgary
Premium LED Lighting: Our state-of-the-art LED lights generate 37.5 Lumens per foot, ensuring your home stands out with brilliance.
Warranty: We stand by our quality with a 5-year parts & labour warranty on permanent lighting installations.
Energy Efficiency: Celebright bulbs consume only 0.1W per bulb (while competitors like Gemstone consume 0.7W), saving you energy and costs.
Customization: Choose from millions of colours to create your perfect holiday lighting display.
Permanent LED Light Installation Services
We are your trusted source for premium permanent holiday lighting solutions. Our cutting-edge LED technology offers the brightest and most energy-efficient lighting for your home, transforming it into a festive wonderland year-round.
Our services extend beyond just lighting; we provide expert installations, a five-year parts & labor warranty, and a commitment to safety and quality. With Celebright, you can schedule your lights, choose from millions of colors, and enjoy the holidays hassle-free. Discover the magic of permanent holiday lighting that shines brightly, efficiently, and reliably.
Why Choose Five Star Holiday Decor?
Celebright's permanent lighting isn't just for the holidays. Enjoy a festive atmosphere any time of year with our versatile lighting solutions. Let us transform your property into a breathtaking, year-round spectacle that stands out in Edmonton and Calgary.
Expertise You Can Trust: Five Star Holiday Decor is your trusted partner for full-service LED light installations. Our expertise ensures your home shines with holiday magic year after year.
Premium Celebright Lights: When you choose us, you're choosing Celebright, the brightest and most energy-efficient LED lighting system on the market. Our partnership with Celebright guarantees you top-tier lighting technology that stands out.
Reliability & Warranty: We stand behind our work with pride. Our installations come with a five-year parts and labor warranty, offering peace of mind and assurance in the durability and quality of our products.
Discover the brilliance of Celebright LED Lights
Celebright Permanent LED Lights are the ultimate choice for permanent LED lighting solutions. With Celebright, you can transform your home into a year-round spectacle of light and colour.
Their cutting-edge LED technology offers the brightest illumination on the market, and you have the power to choose from millions of colours and set schedules to suit your preferences. Whether it's for festive holidays, special occasions, or simply adding a touch of magic to your home, Celebright lights are energy-efficient, easy to control, and built to last.
Elevate your lighting experience and make every moment shine with Celebright.
Permanent Lighting vs. Seasonal Lighting
Did you know that we also offer Seasonal/Temporary LED Lighting services as well?
Here are some of the advantages of temporary lighting to help you choose the best lighting solution for your specific needs:
Seasonal Flexibility: Temporary lighting allows you to change your lighting theme and style with the seasons. Whether it's Christmas, Halloween, a special event, or any holiday, you can easily switch up the ambiance to suit the occasion.
Cost-Effective: For those who prefer to enjoy festive lighting during specific times of the year, temporary lighting is a cost-effective choice. You can have the holiday magic without the year-round energy consumption.
No Long-Term Commitment: Unlike permanent lighting, temporary lighting doesn't require a long-term commitment. You have the freedom to decide when to install and remove the lights without any permanent fixtures on your property.Learn More About Seasonal Lighting
Permanent Lighting Gallery
High quality, environmentally-friendly lighting all year long.
Our Service Locations
Permanent LED Light Installations in Edmonton, Calgary and Area
Immerse yourself in the enchantment of the holiday season through our meticulously designed permanent LED lighting installations, proudly serving Edmonton, Calgary, Airdrie, Cochrane, and Chestermere.
Our comprehensive and hassle-free service takes the worry out of decorating, providing a seamless solution for homeowners, businesses, and municipalities alike. Let us transform your surroundings with captivating allure, ensuring that your selected area exudes a timeless radiance and creates lasting memories.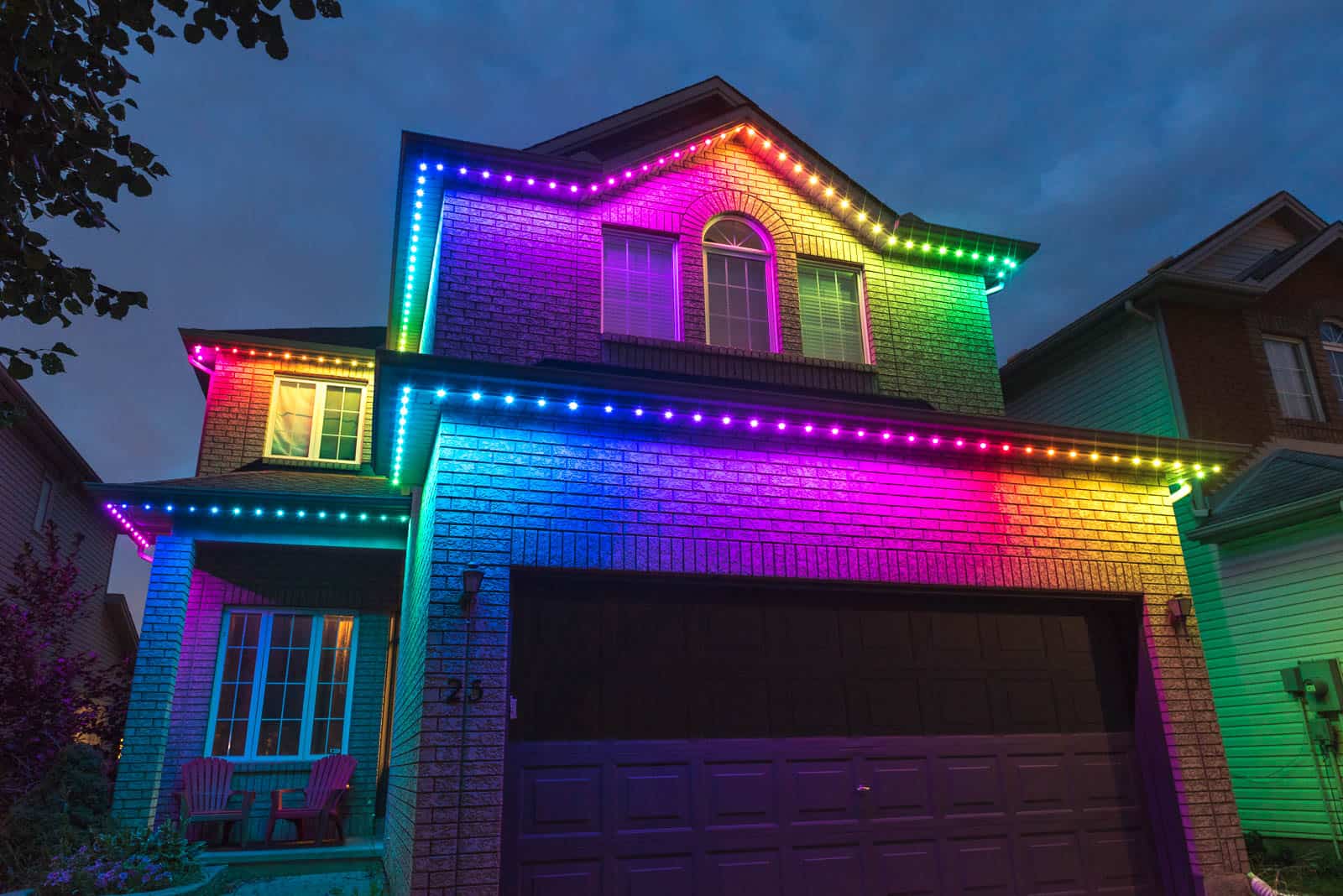 Request a Free Estimate Today
Chat with our Customer Success Team today about our permanent lighting solutions by filling out this form!
Frequently asked questions
These common questions explore the differences between our Celebright Permanent LED Lighting Products vs. Gemstone Lighting.
1. How bright are your bulbs compared to other systems:
Celebright bulbs are exceptionally bright, generating an impressive 37.5 Lumens per foot. This makes them the brightest option available for a single diode puck in the market, ensuring that your lighting display stands out with unmatched brilliance and visibility.
2. What is your warranty on Permanent LED Lights?
Celebright is proud to offer a robust 5-year parts and labor warranty on our Permanent LED Lights. This warranty provides peace of mind and demonstrates our commitment to the durability and quality of our lighting products and installations.
3. How energy efficient are your lights?
Celebright bulbs consume only 0.1W per bulb while competitors like Gemstone consume 0.7W.
This exceptional energy efficiency not only helps reduce your energy bills but also minimizes your environmental footprint, making them an environmentally friendly choice for permanent LED lighting solutions.
4. If one bulb goes out, will the whole system fail?
The Celebright system has redundancy built into it's design, if one bulb fails the entire system will continue to operate.
This built-in redundancy ensures that your lighting display remains uninterrupted and reliable, setting Celebright apart from systems that may fail entirely if a single bulb goes out. Other systems on the market do not have this feature.
5. How large are your bulbs? Are they visible during the day?
Celebright offers some of the smallest yet brightest bulbs on the market. These compact bulbs are designed to blend seamlessly into your property's architecture during the day, minimizing their visibility. This ensures that your lighting display looks elegant and unobtrusive in daylight while creating a stunning effect when illuminated at night.
6. Will the bulbs have a pattern or clover?
No, Celebright bulbs do not produce a pattern or clover effect. Each Celebright puck uses a single point of light, resulting in a clean and crisp illumination without any unwanted patterns or visual artifacts. Your lighting display will showcase a smooth and visually pleasing appearance, free from any distracting effects.
7. How safe is your company?
Five Star Holiday Decor has been illuminating properties across Alberta since 2010.
Safety is paramount to us. We take pride in our commitment to safety, which includes compliance with WCB (Workmen's Compensation Board) regulations. Additionally, we hold a Government of Alberta Prepaid Contractors License. Our safety program is COR (Certificate of Recognition) Certified, demonstrating our dedication to industry-leading safety procedures and practices. Furthermore, we carry a substantial $5,000,000 in liability insurance, providing you with peace of mind when choosing us for your permanent LED lighting needs.
8. Do Celebright lights require a Wi-Fi connection to operate?
Yes, Celebright lights require a Wi-Fi connection to operate. They are part of a cloud-connected system, allowing you to control and customize your lights remotely through the Celebright app or web portal from anywhere with an internet connection.
This connectivity enables convenient and flexible control of your permanent LED lighting display, making it easy to manage your lights even when you're away from home.
9. What maintenance is required for Celebright Permanent LED lights?
Celebright Permanent LED lights are designed for minimal maintenance. Due to their durable and energy-efficient nature, they require very little upkeep. However, it's recommended to periodically inspect the lights for any physical damage, loose connections, or debris that might accumulate on the fixtures.
Regular cleaning to remove dust or dirt can help maintain the brightness and appearance of the lights. In the event that a bulb needs replacement, it can be easily replaced by either our team or the homeowner, ensuring that your lighting display continues to shine brilliantly.
10. Do I need professional installation for Celebright lights?
Yes, professional installation is recommended for Celebright lights to ensure a seamless and high-quality lighting display. Five Star Holiday Decor, is a trusted partner and the largest Celebright dealer in Alberta. We offer expert installation services for Celebright lights. Our experienced team is well-equipped to handle the installation process, ensuring that your lights are properly and securely set up.
Professional installation not only guarantees a stunning and reliable lighting display but also provides peace of mind, knowing that the job is done correctly and safely.