Illuminate Your Community
We love decorating for municipalities. Larger public spaces are often perfect for designing and installing unique creative projects. They present a great opportunity for creating a cheerful holiday atmosphere and give us the opportunity to help engage larger communities. Through our municipal lighting services, we're able to bring your community's personality to life for the holiday season.
From simple tree illuminations to intricate displays, municipal holiday lighting can bring a lot of joy to the community. By lighting up everything from main streets to parks to town halls and more, our team of professional lighting technicians thoroughly enjoys lighting up municipalities throughout central Alberta and beyond!
About Municipal Christmas Lighting
If you can dream it, we can light it up! Our municipal Christmas lighting is a custom offering to ensure that we can let the municipality's charm really shine through. Each municipal lighting project that we complete for towns, neighbourhoods, or communities is unique. Our team of professional lighting technicians will work with you to create designs and displays that accentuate the best features of your municipality. Chat with our Customer Success Team about the endless options today!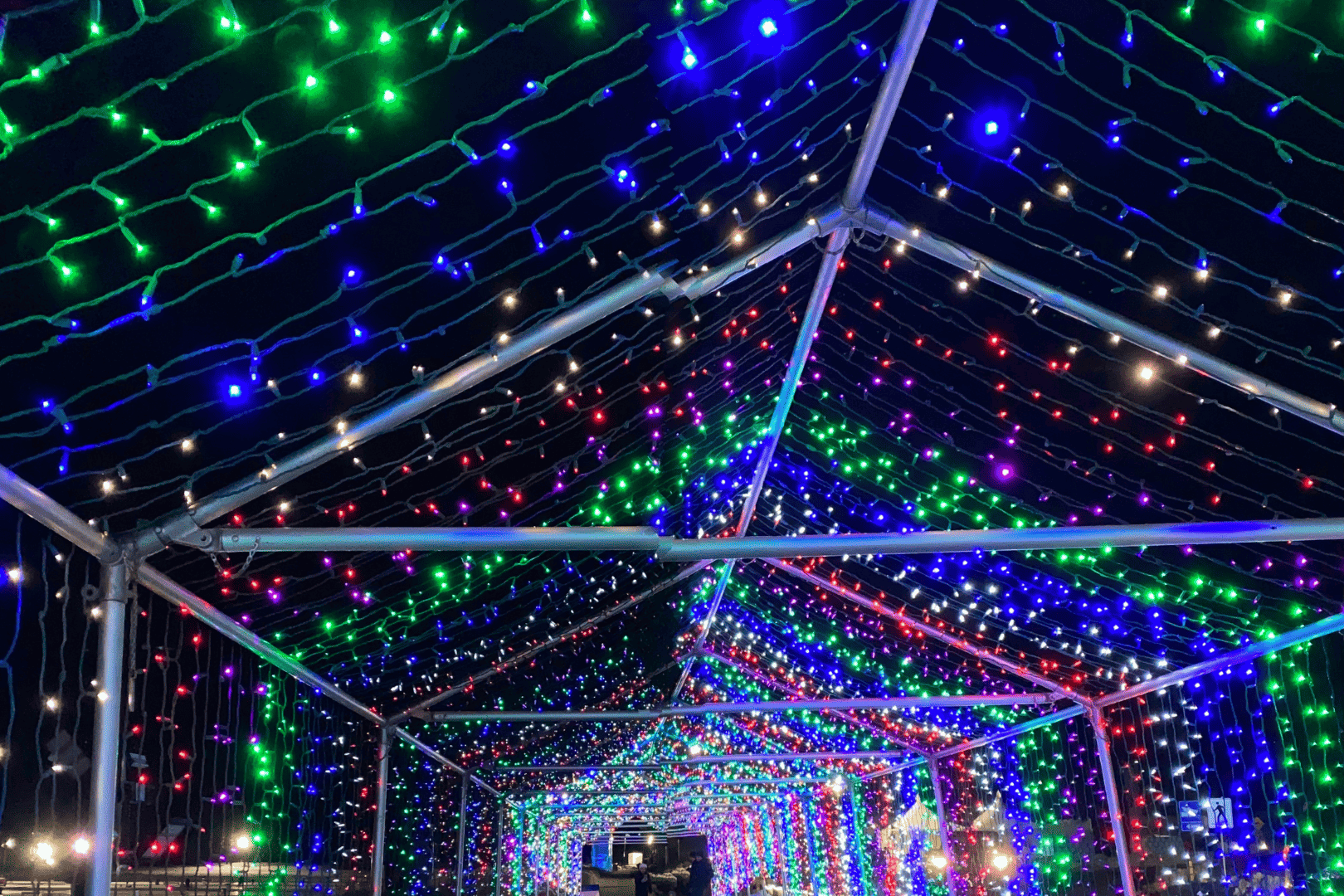 Municipal Christmas Lighting Options
The municipal holiday lighting options that our five star team offers are seemingly endless. Before we get started on creating or ideating any lighting displays, we'll sit down with you to chat about what exactly you're looking for to light up your community. Then, we'll bring your vision to life with the following lighting options and more:
Tree/shrub/greenery lighting
Building lighting
Park lighting
Street lighting
And more!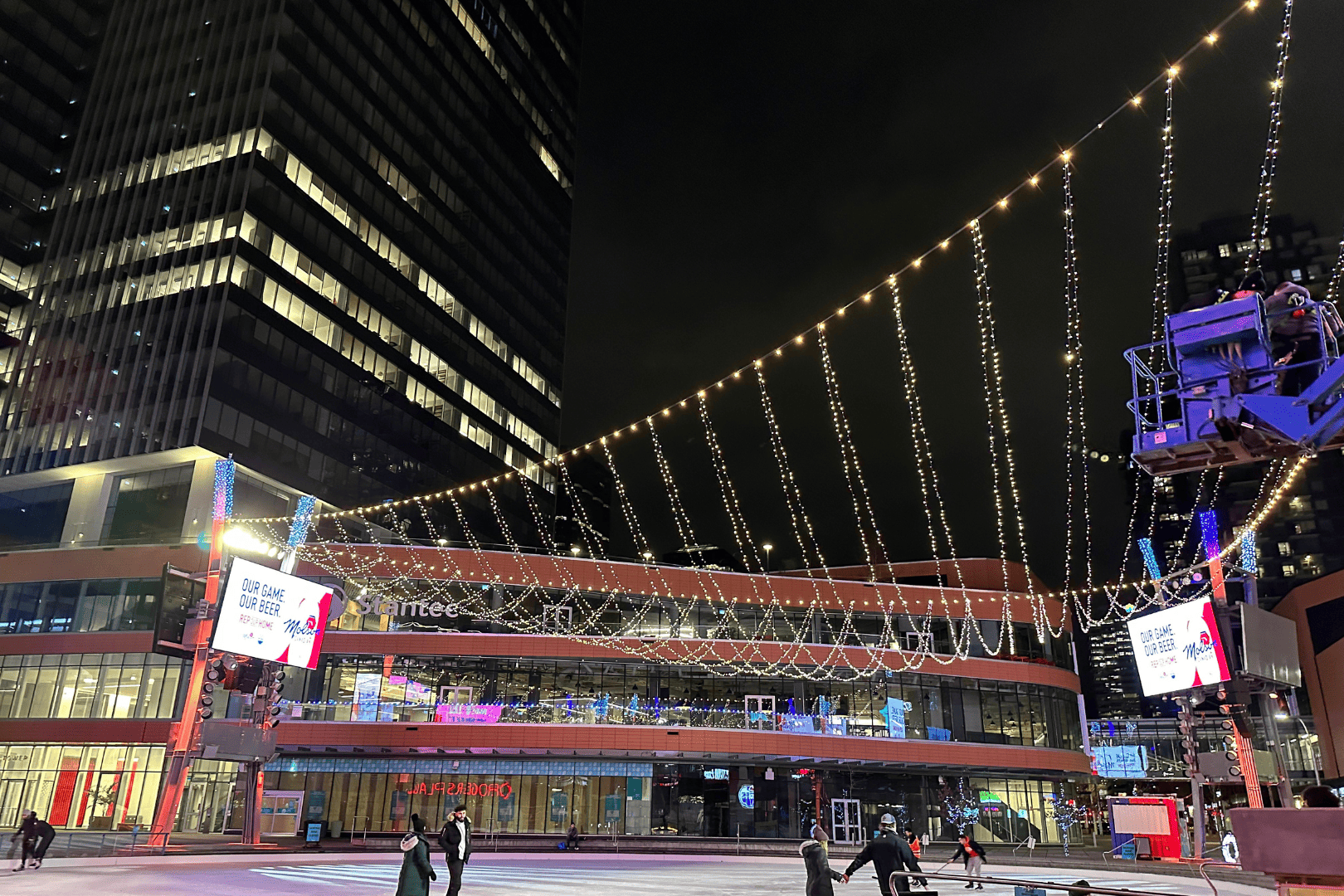 Benefits of Municipal Christmas Lighting
When you choose our five star municipal lighting services for your holiday season, you're choosing to:
Increase community engagement
Facilitate holiday memories in your community
Bring friends and family together to celebrate the season
Make your community safer during the winter months
Attract visitors/tourists to your community
Develop opportunities for more media coverage and PR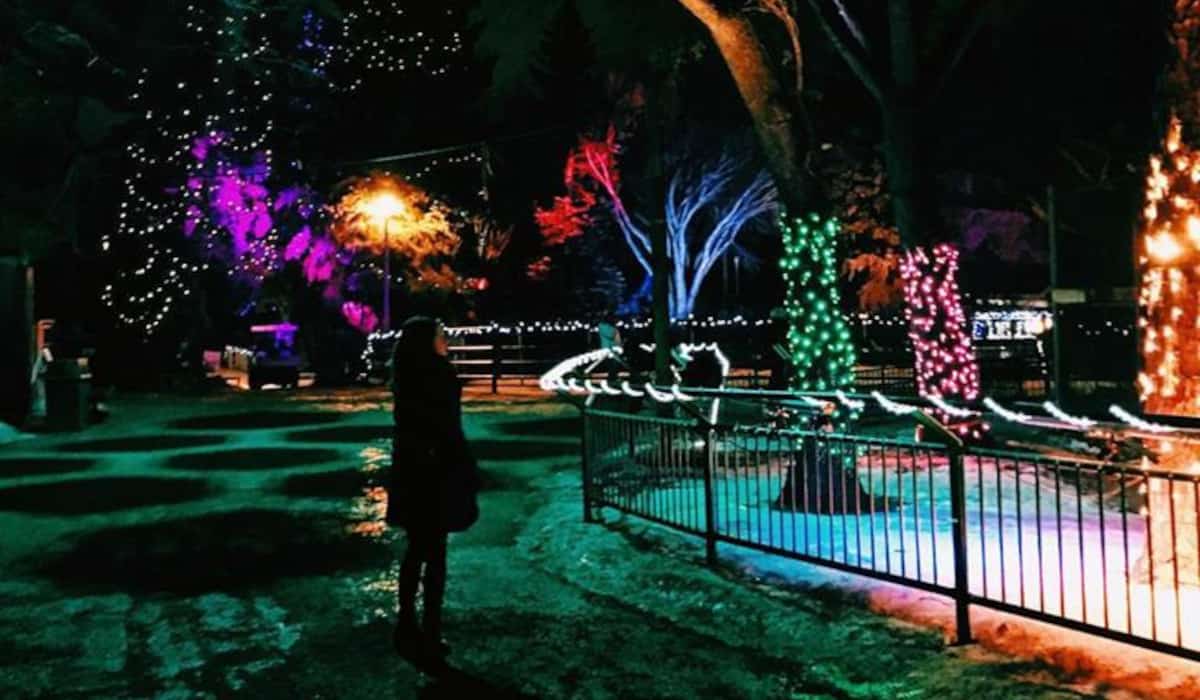 Cost of Municipal Christmas Lighting
The cost of your municipal Christmas lighting will depend on a few different factors. Each municipality that we light up each year is different and each lighting display is also different. In order to reflect this uniqueness, we always price each municipal holiday lighting package individually, rather than using generalized pricing. However, we're always more than happy to provide you with a free quote for your lighting needs! Give our team a call today to get started on illuminating your community today.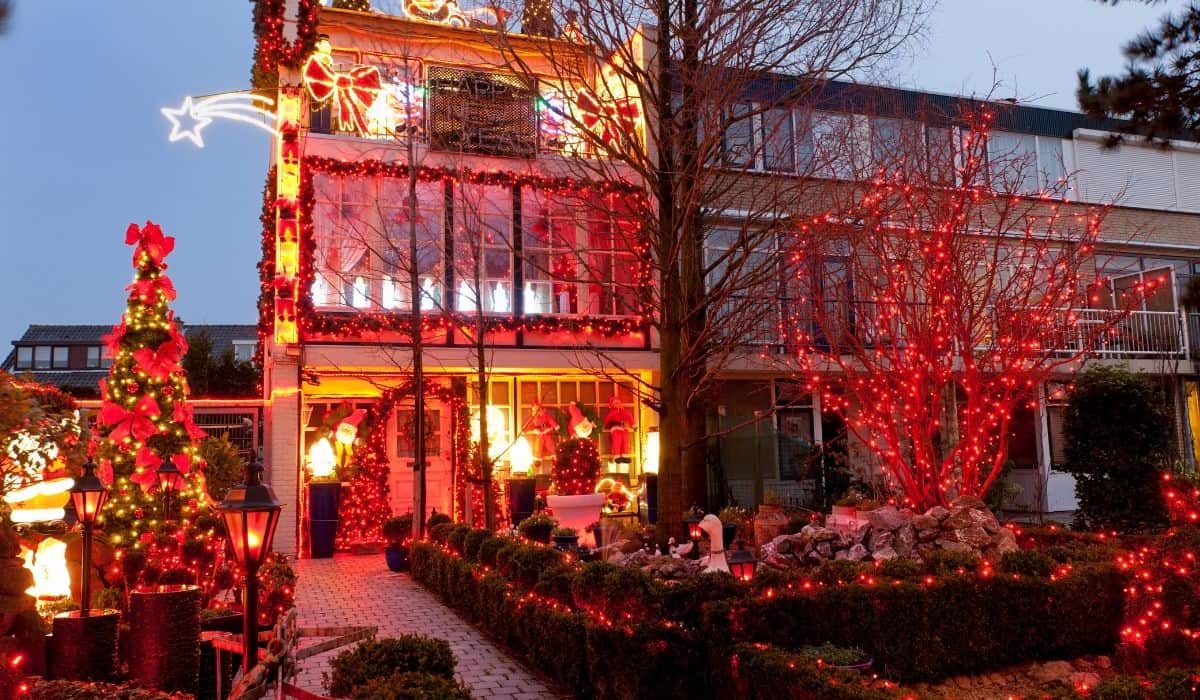 Municipal Christmas Lighting Gallery
Embrace community. Embrace tradition. Embrace the beauty of a starry night.
Our Service Locations
Municipal Christmas Tree Lighting
Embrace the enchantment of the holiday season through our expert municipal Christmas lighting installation services, now serving Edmonton, Calgary, Airdrie, Cochrane, and Chestermere. Our user-friendly and all-inclusive offering simplifies the decoration process, offering a stress-free solution for residents, businesses, and local municipalities. Allow us to transform your urban nightscape into a festive masterpiece, guaranteeing your Christmas lighting dazzles brilliantly and crafting enduring memories for generations to come.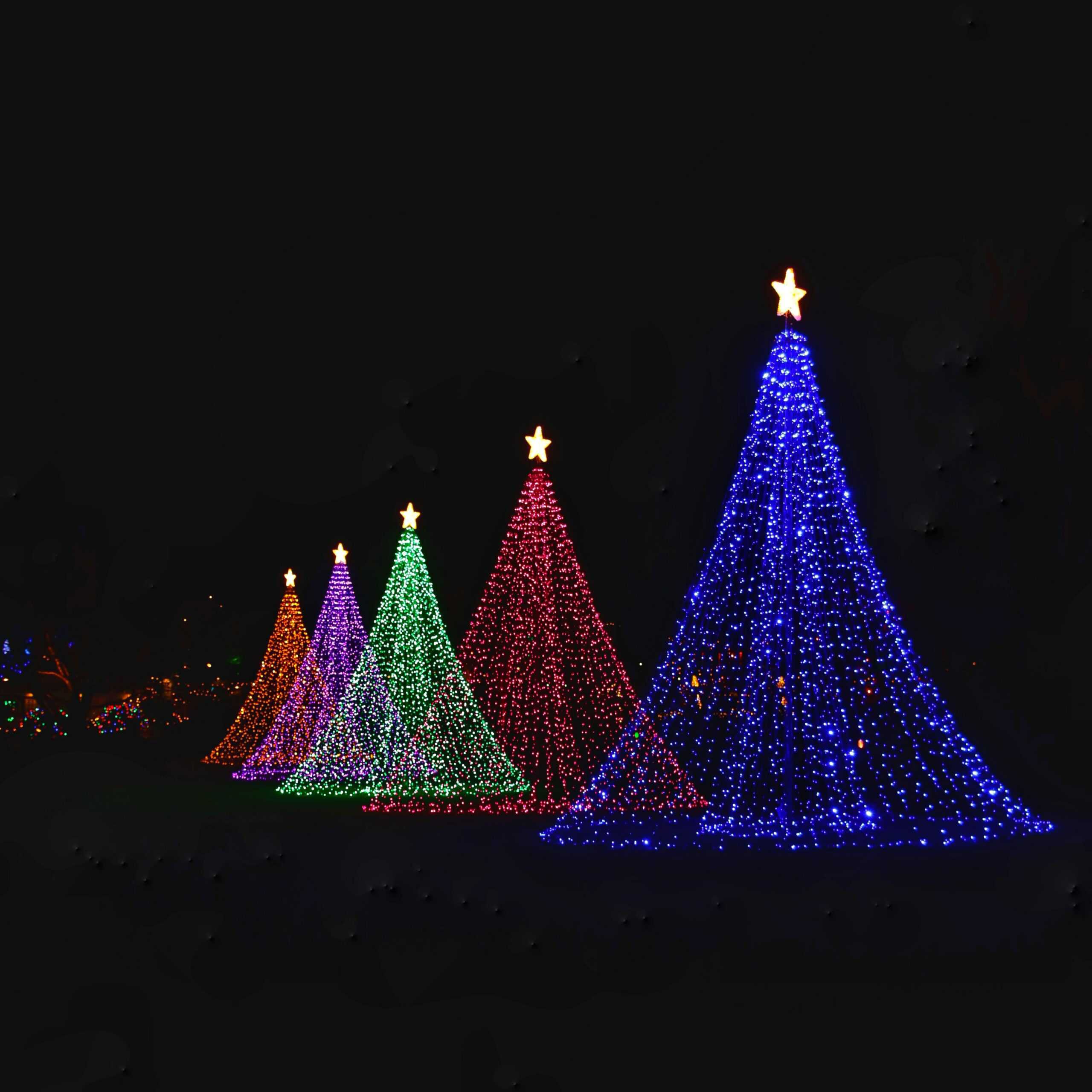 Your Holiday Lighting Will Be the Talk of the Town
Bring Christmas cheer to your community this year with a premium, dazzling lighting display from our five star team!
Request a Free Estimate Today
Frequently asked questions
We now have an FAQ list that we hope will help you
answer some of the common Municipal Christmas light Installation questions.
1. Why should our municipality host a Christmas tree lighting event every year?
Hosting a Christmas tree lighting event every year is a tradition that carries significant value and numerous benefits for our municipality. Here are some compelling reasons why we continue to celebrate this festive tradition:
Fostering Community Unity: Christmas tree lighting events and holiday light installations serve as a powerful symbol of unity and togetherness. It brings residents of all backgrounds, ages, and beliefs together to celebrate a common cultural tradition, creating a sense of belonging and community spirit.
Preserving Heritage and Tradition: Embracing the annual Christmas tree lighting event allows us to preserve our cultural heritage and honour the traditions that have been passed down through generations. It's a way to connect with our past and share these important customs with future generations.
Promoting Civic Pride: Our Christmas tree lighting ceremony is a source of civic pride. It showcases our commitment to celebrating the holiday season and creating a warm and inviting atmosphere for all residents and visitors.
Supporting Local Businesses: These events can have a positive impact on the local economy. It attracts visitors to our downtown area, leading to increased foot traffic and sales for local businesses during the holiday season. This boost in economic activity benefits the entire community.
Enhancing Quality of Life: The festive ambiance created by the beautifully decorated Christmas tree and surrounding lighting displays enhances the quality of life for your residents. It fosters joy and a sense of wonder, making the community a more pleasant place to live.
Cultural and Recreational Opportunities: Christmas tree lighting events offer cultural and recreational opportunities for your residents. It includes a range of activities such as cultural performances, carol singing, and entertainment, enriching the cultural fabric of our municipality.
Charitable Giving: Your event can include charitable initiatives like food drives or donations to local charities. This encourages residents to give back to those in need during the holiday season, reinforcing a culture of compassion and social responsibility.
Tourism and Promotion: The event has the potential to attract tourists and visitors from neighbouring areas, promoting our municipality as a welcoming and festive holiday destination. Increased tourism-related spending benefits local businesses and the tourism industry.
Public Safety and Preparedness: Ensuring the safety of your residents and visitors during the event is a top priority. The Christmas lighting celebrations provide an opportunity to reinforce public safety measures, including crowd control and traffic management, while also testing our emergency response capabilities.
Environmental Responsibility: We prioritize sustainability by using energy-efficient LED lights for our Christmas tree and lighting displays. This aligns with our commitment to environmental responsibility and showcases our dedication to a greener future.Hosting a Christmas tree lighting event every year is about more than just lighting a tree; it's a tradition that enriches the community in numerous ways. It fosters unity, supports our local economy, enhances our quality of life, and preserves our cultural heritage.
2. How does the Christmas tree lighting event benefit local businesses in our area?
The Christmas tree lighting event serves as a significant catalyst for supporting and invigorating your local business community in a multitude of ways. Here's a more comprehensive look at how this festive tradition benefits local businesses in your area:
Increased Foot Traffic: The Christmas tree lighting event draws a large and diverse crowd to your downtown area or commercial district. This influx of attendees translates into increased foot traffic for local businesses, which can lead to higher sales and revenue.
Holiday Shopping: With the holiday season in full swing, the event often serves as a kickoff for festive shopping. Many attendees use the opportunity to start their holiday gift shopping, benefiting local retailers and shops. This seasonal boost can be a crucial source of income for businesses.
Promotion of Small Businesses: The event provides a platform for local artisans and small businesses to showcase their products and services. Vendors and crafters often set up booths or stalls, giving them exposure to a larger audience and an opportunity to make sales.
Extended Business Hours: To accommodate the event and the increased number of visitors, local businesses may extend their operating hours. This flexibility allows residents and visitors to shop, dine, and explore your community during evening hours, supporting local businesses even further.
Collaborative Marketing: Businesses can benefit from collaborative marketing efforts related to the Christmas lighting event. By participating in the event or sponsoring activities, they gain visibility through event promotions and advertising, both locally and potentially in regional media.
Community Engagement: Local businesses that actively participate in or sponsor the Christmas tree lighting event demonstrate their commitment to the community. This engagement fosters goodwill among residents and may result in increased loyalty and support from customers.
Attracting Visitors: The festive atmosphere created by the event can attract visitors from neighbouring areas. These visitors may choose to dine at local restaurants, shop at local stores, or stay at nearby accommodations, boosting the local tourism and hospitality sectors.
Community Involvement: Local businesses often have an opportunity to get involved in the event directly by decorating storefronts, offering promotions or discounts, or hosting special holiday-themed activities. This level of engagement enhances the overall experience for attendees.
Spillover Effect: Beyond immediate event-related sales, local businesses can benefit from a "spillover effect." When attendees have a positive experience during the event, they may return to your community for future shopping and dining experiences.
Supporting Economic Vitality: The Christmas tree lighting event contributes to the overall economic vitality of your area. It reinforces the idea that your community is a vibrant and welcoming place to visit and shop, which can attract long-term investment and development.
The Christmas tree lighting event plays a crucial role in boosting the local economy and supporting your local businesses. It generates increased foot traffic, encourages holiday shopping, and fosters community engagement. By participating in and aligning with the event, businesses can maximize these benefits and contribute to the continued prosperity of your community.
3. What recreational activities are typically featured at Christmas tree lighting celebrations?
Christmas tree lighting celebrations are known for offering a wide range of recreational activities that enhance the festive experience for your residents and visitors.
Here's a closer look at the kinds of recreational activities you can expect to find at these joyful gatherings:
Live Entertainment: Many Christmas tree lighting events feature live musical performances, including choirs, bands, and solo artists. These performances often include holiday classics and carol singing, creating a joyful atmosphere.
Holiday Craft Workshops: Craft workshops, especially for children, provide an opportunity for creative expression. Participants can make ornaments, holiday cards, and other festive crafts to take home as mementos.
Meet-and-Greet with Santa: Santa Claus is a beloved figure at Christmas tree-lighting events. Children and families can often meet Santa, share their holiday wishes, and take photos with him.
Ice Skating: In some areas, ice skating rinks are set up as part of the festivities. Skating adds a delightful winter touch to the event and offers a fun activity for attendees of all ages.
Food Trucks and Treats: A variety of food vendors and food trucks may be present, offering a diverse selection of holiday treats, snacks, and warm beverages. This allows attendees to indulge in seasonal delights.
Holiday Market: Christmas markets or holiday bazaars are often featured, providing an opportunity to shop for unique gifts and crafts from local artisans and vendors.
Light Displays and Parades: Elaborate light displays, often synchronized to music, add a spectacular element to the event. Some celebrations also include illuminated parades featuring floats and performers.
Storytelling Sessions: Storytellers may captivate audiences with holiday-themed tales, creating a cozy and festive atmosphere.
Themed Contests and Games: Attendees may have the chance to participate in fun contests or games, such as gingerbread house decorating competitions or costume contests.
Carriage Rides: Horse-drawn carriage rides through beautifully decorated streets offer a picturesque and enchanting experience.
These recreational activities contribute to the festive spirit of your Christmas tree lighting celebration, making it a memorable and enjoyable experience for everyone who attends.
4. How can we get the community involved in the Christmas light celebration?
Engaging the community in your Christmas light celebration is a wonderful way to enhance the sense of togetherness and make the event truly special.
Here are some effective strategies for involving your community in the festivities:
Volunteer Opportunities: Encourage community members to volunteer their time and skills to help organize and run the event. Volunteers can assist with planning, decorations, event logistics, and activities.
Community Decorating Contest: Host a holiday decorating contest for homes and businesses within your community. This encourages residents to decorate their properties, fostering a festive atmosphere throughout the area.
Student Art and Craft Displays: Collaborate with local schools and educational institutions to showcase artwork and crafts created by students. These displays can be a source of pride for young artists and their families.
Parade Participation: If your Christmas light celebration includes a parade, invite local schools, community groups, and organizations to participate by designing floats or marching in the parade.
Community Performances: Showcase the talents of community members by hosting open auditions for local performers, including musicians, dancers, and actors, to participate in the entertainment program.
Collaborate with Local Businesses: Partner with local businesses to sponsor and actively participate in the event. They can set up booths, offer promotions, and contribute to the overall festive atmosphere.
Community Tree Decorations: Invite families and individuals to contribute ornaments or decorations for the community Christmas tree. This can be a meaningful way for residents to feel a sense of ownership and participation.
Holiday Market: If you have a holiday market as part of your celebration, encourage local artisans, crafters, and small businesses to showcase their products and talents. This supports the local economy and adds vibrancy to the event.
Children's Activities: Organize activities specifically designed for children, such as craft stations, storytelling sessions, and visits with Santa Claus. Engaging young residents and families can be a heartwarming aspect of the celebration.
Social Media and Online Engagement: Use social media and online platforms to create excitement and engagement leading up to the event. Share event updates, and stories, and encourage community members to share their own holiday preparations.
Community Choir: Form a community choir that rehearses leading up to the event and performs favourite holiday songs. This allows residents of all ages to participate in the musical aspect of the celebration.
Community Contributions: Invite community members to contribute in-kind donations or sponsorships to support the event's logistics and expenses. Their contributions can be acknowledged and appreciated publicly.
By actively involving your community in the planning and execution of the Christmas light celebration, you can create a sense of ownership and unity that makes the event even more special and cherished by all.
5. Can there be a charitable aspect to the Christmas lighting festivities?
Incorporating a charitable aspect into your Christmas lighting festivities is a meaningful way to spread the spirit of giving during the holiday season and make a positive impact on your community.
Here are several ways to introduce a charitable dimension to the celebration:
Food Drives: Partner with local food banks or charities to organize a food drive during the festivities. Encourage attendees to bring non-perishable food items for donation. This helps provide meals to those in need during the holidays.
Toy Drives: Collaborate with organizations that support underprivileged children and families. Set up collection points for new, unwrapped toys, which can be distributed to children who might otherwise go without gifts during the holidays.
Clothing and Blanket Donations: Collect warm clothing items, blankets, and winter coats to distribute to individuals experiencing homelessness or hardship in your community. This provides essential warmth during the cold winter months.
Donation Stations: Set up designated donation stations at the event where attendees can contribute to a specific charitable cause or organization. Clearly communicate the impact of their donations and where the funds will go.
Charity Booths: Invite local charities or non-profit organizations to set up informational booths or stalls at the celebration. They can raise awareness about their causes and accept donations on-site.
Charitable Performances: Incorporate charitable performances into the event's entertainment program. For example, you can feature a charity choir or orchestra and encourage attendees to make donations in support of their efforts.
Beneficiary Partnerships: Establish partnerships with specific charities or causes and designate a portion of the event's proceeds to go directly to those organizations. This creates a direct and meaningful impact.
Charity Auctions: Organize a silent auction or charity raffle, with proceeds going to a chosen charity or cause. Encourage local businesses to donate items or services for the auction.
Sponsorship Opportunities: Seek corporate sponsors who are willing to donate to a charity as part of their sponsorship package for the event. This can create a win-win scenario where the event benefits both the community and the sponsors.
Volunteer Opportunities: Promote volunteer opportunities with local charities and non-profits during and after the festivities. Encourage attendees to consider giving their time to help those in need.
Charity Runs or Walks: If your event includes a physical activity component like a fun run or walk, designate a charity or cause as the beneficiary. Participants can raise funds through pledges or donations.
Matching Donations: Encourage attendees by offering to match their donations, effectively doubling the impact of their generosity.
By weaving a charitable aspect into your Christmas lighting festivities, you not only bring joy and celebration to your community but also make a meaningful and positive difference in the lives of those who are less fortunate during the holiday season. It's a heartwarming way to emphasize the true spirit of giving and sharing.
6. What steps can be taken to ensure public safety during the Christmas tree lighting?
Ensuring public safety during your Christmas tree lighting event is of paramount importance. A well-organized and secure celebration not only allows attendees to enjoy the festivities but also promotes a positive experience for all.
Here are the key steps taken to prioritize public safety at your Christmas tree lighting:
Event Planning and Coordination: Extensive planning is conducted in advance to coordinate all aspects of the event, including security and safety measures.
Permits and Compliance: All necessary permits and licenses are obtained, and that the event complies with local safety regulations and guidelines.
Emergency Services: Close coordination with local emergency services, including police, fire departments, and medical personnel, is maintained. These agencies are on standby to respond to any incidents or emergencies.
Security Personnel: Trained security personnel are deployed throughout the event venue to monitor and maintain order. They are responsible for crowd control and ensuring that attendees follow safety guidelines.
Crowd Management: Measures are in place to manage crowd size and flow. This includes establishing entry and exit points, setting up barricades, and implementing crowd control strategies to prevent overcrowding.
Traffic Control: Traffic management plans are developed to minimize congestion and ensure safe pedestrian access to the event area. Temporary road closures and detours may be implemented as needed.
Lighting and Visibility: Adequate lighting is provided to ensure visibility, especially in dimly lit areas. This helps prevent accidents and enhances the overall security of the event.
First Aid Stations: First aid stations or medical tents staffed with trained personnel are set up to provide immediate assistance to anyone in need. These stations are equipped to handle minor injuries and medical emergencies.
Lost and Found: A designated area or booth is established for lost and found items. This ensures that lost belongings can be easily retrieved by attendees.
Communication: Effective communication systems are put in place, including two-way radios and emergency communication channels, to facilitate quick responses to incidents or emergencies.
Weather Considerations: Weather-related safety measures are taken into account. For example, provisions may be made for shelter in case of inclement weather, and event organizers stay vigilant about potential weather-related risks.
Security Checks: Security personnel may conduct bag checks or screenings at entry points to ensure that prohibited items are not brought into the event area.
By meticulously planning and executing these safety measures, your Christmas tree lighting event aims to create a secure and enjoyable experience for all attendees, fostering a sense of community and holiday spirit while prioritizing their well-being.
7. How are the Christmas lights we use energy-efficient and environmentally friendly?
The environmental impact of the Christmas lights used in your holiday celebrations is a matter of concern for both sustainability and energy efficiency.
Here's how we ensure that the Christmas lights employed in your festivities are energy-efficient and environmentally friendly:
LED Lights: We use LED (Light Emitting Diode) Christmas lights. LED lights are highly energy-efficient, using up to 80% less electricity than traditional incandescent lights. They also have a longer lifespan, reducing waste.
Timers and Sensors: We can install timers or motion sensors for your Christmas lights to ensure they are only on when needed. This reduces unnecessary energy consumption and extends the life of the lights.
Low-Voltage Lights: The lights we use are low-voltage Christmas lights, which consume less energy and pose fewer electrical hazards. They are safer and more energy-efficient for outdoor displays.
Recycling and Disposal: When it's time to replace old Christmas lights, ensure they are recycled properly.
By taking these steps, you can ensure that the Christmas lights used in your holiday celebrations are energy-efficient and environmentally friendly, contributing to a more sustainable and eco-conscious approach to festive decorations.
8. How does the Christmas tree lighting event contribute to a sense of community pride?
The Christmas tree lighting event in your community plays a pivotal role in fostering a profound sense of community pride.
Here's how this cherished tradition contributes to and enhances that pride:
Shared Tradition: The annual Christmas tree lighting event is a cherished tradition that residents look forward to year after year. It symbolizes a shared cultural experience, creating a deep connection among community members.
Community Gathering: The event brings together residents of all ages, backgrounds, and beliefs. It provides an inclusive space for everyone to come together and celebrate, reinforcing the idea that your community is a welcoming and united place.
Festive Atmosphere: The beautifully decorated Christmas tree and festive lighting create an inviting and joyful ambiance throughout the community. This ambiance permeates streets, homes, and businesses, instilling a sense of holiday spirit.
Celebration of Identity: The event celebrates your community's unique identity and traditions. It highlights what makes your area special and distinct, fostering a sense of pride in your cultural heritage.
Local Artistic Expression: Many communities involve local artists and artisans in creating decorations and ornaments for the Christmas tree and displays. This showcases and celebrates the artistic talents within your community.
Support for Local Businesses: The event often promotes shopping locally, benefiting local businesses and the economy. When residents support local merchants during the holiday season, it strengthens the economic foundation of your community.
Philanthropy and Giving: The charitable aspects of the event, such as food drives or toy collections, demonstrate your community's commitment to helping those in need. This philanthropic spirit is a source of pride.
Inclusivity and Diversity: By embracing the holiday season and its traditions, your community shows respect for diversity and inclusivity. The event welcomes people of all backgrounds and beliefs, fostering a sense of unity and acceptance.
Positive Media Coverage: The Christmas tree lighting event often receives media coverage, showcasing your community's festive spirit and togetherness to a wider audience. The positive press can boost community pride.
Memories and Traditions: Over time, the event becomes a repository of cherished memories and shared experiences. Families create their own traditions around the event, passing down the love for it to future generations.
Volunteerism and Engagement: The event encourages community members to get involved, whether through volunteering, decorating, or organizing. This active engagement strengthens community bonds and pride.
Any Christmas tree lighting event is much more than a seasonal decoration. It's a source of joy, connection, and pride for all who call your community home.
9. What role does tourism play in community Christmas lighting festivals?
Tourism plays a significant and multifaceted role in community Christmas lighting festivals, enhancing the overall experience for both residents and visitors.
Here's how tourism contributes to the success and impact of your Christmas lighting festivities:
Economic Boost: Tourism during the Christmas season generates substantial revenue for your local economy. Visitors who attend the festival often dine at local restaurants, stay in nearby accommodations, and shop at local stores, significantly boosting local businesses.
Increased Foot Traffic: Christmas lighting festivals attract visitors from neighbouring areas and even further afield. This influx of visitors increases foot traffic in your community's downtown or festival area, benefiting local merchants and vendors.
Promotion of Local Attractions: Tourism associated with the festival can lead to increased awareness of your community's other attractions, landmarks, and points of interest. Visitors may return to explore these attractions at a later date.
Regional Destination: A well-known and vibrant Christmas lighting festival can position your community as a regional holiday destination. Visitors may make plans to visit specifically for the festival, extending their stay to explore your area further.
Hotel Occupancy: The increased demand for accommodations during the festival season benefits local hotels, bed-and-breakfasts, and vacation rentals. This can lead to higher occupancy rates and increased revenue for the hospitality sector.
Support for Local Arts and Crafts: Visitors often purchase local art, crafts, and holiday-themed items at the festival's market stalls or vendor booths, providing income for local artisans and contributing to the creative economy.
Cultural Exchange: Tourism fosters cultural exchange as visitors from diverse backgrounds experience your community's holiday traditions, fostering understanding and appreciation of different cultures.
Positive Publicity: Christmas lighting festivals often receive media coverage, including travel magazines, websites, and news outlets. Positive publicity can attract even more visitors in the future, expanding your tourism base.
Community Engagement: Tourism encourages community members to actively participate in the festival and engage with visitors. This interaction can lead to a stronger sense of pride and community spirit.
Funding Opportunities: Increased tourism can attract government grants and funding for community development, infrastructure improvements, and enhancements to the festival itself.
Sustainability Initiatives: The economic benefits of tourism can support local sustainability initiatives, including green energy projects, conservation efforts, and environmentally friendly practices.
Job Opportunities: The festival's tourism-related activities often create temporary job opportunities, benefiting local residents and contributing to seasonal employment.
Festival Expansion: As tourism grows, your community may consider expanding the festival to accommodate larger crowds and offer more attractions, enhancing the overall experience.
Tourism is a vital component of community Christmas lighting festivals. It brings economic benefits, enhances community engagement, promotes local businesses, and positions your community as a festive and welcoming holiday destination. By leveraging the tourism potential of your festival, you can create a positive and lasting impact on your community's well-being and prosperity.
10. How can our municipal administrations stay informed of the best ideas for Christmas lighting events and related activities?
To stay at the forefront of holiday event trends and ensure your municipal administrations have access to the latest and most innovative ideas for Christmas lighting events and related activities, consider fostering a close partnership with experts in the field, such as Five Star Holiday Decor. This strategic collaboration offers several advantages:
Expertise and Experience: Five Star Holiday Decor brings a wealth of expertise and experience in holiday event planning, lighting design, and festive decorations. Their insights can guide your administration in crafting unique and memorable celebrations.
Access to Trend Insights: By partnering with Five Star Holiday Decor, you gain access to their industry knowledge and insights into emerging trends in holiday event planning. They can keep you informed about the latest innovations and ideas that are captivating audiences.
Customized Solutions: Working closely with a professional partner allows you to tailor holiday event concepts to the specific needs and preferences of your community. They can create customized lighting and decoration designs that align with your community's identity.
Efficient Planning: Five Star Holiday Decor can streamline the planning process, helping your administration make informed decisions efficiently. This partnership minimizes the need for extensive research and trial-and-error approaches.
Cost-Effective Solutions: Collaborating with experts often leads to cost-effective solutions. Five Star Holiday Decor can provide cost-efficient strategies for executing impressive holiday events while optimizing budget allocation.
Access to Resources: Benefit from Five Star Holiday Decor's network and resources, including connections with suppliers, artisans, and other professionals. This access can enhance the quality and variety of decorations and activities.
Year-Round Support: A close partnership offers year-round support and guidance, not just during the holiday season. This ensures continuous improvement and adaptation of your holiday events based on evolving trends.
Community Engagement: Leveraging Five Star Holiday Decor's expertise can enhance community engagement by creating more engaging and memorable holiday celebrations. Increased participation and satisfaction can boost community pride.
Incorporating Five Star Holiday Decor as a trusted partner can be a strategic approach to stay on top of holiday event trends, ultimately leading to more vibrant, enjoyable, and successful Christmas lighting events for your community.