Christmas Tree Lighting Services in Edmonton and Calgary
Full Service Christmas Light Setup and Takedown - Experience hassle-free holiday magic with Five Star Holiday Décor! Our expert team handles Christmas light setup and takedown, ensuring a stress-free transition into the festive season.
Plus, we specialize in creating enchanting outdoor decorations that will transform your space into a winter wonderland. Let us bring the joy and sparkle of the holidays to your doorstep.
Colourful Christmas Tree Lighting Services
Christmas is a holiday that is best shared by everyone in the community. Individual families, business, and municipalities can all do their part to bring joy and light into the season. And our team at Five Star Holiday Décor can help make the holiday magic happen.
Our full-service approach encompasses every aspect of your tree lighting needs. From initial design and installation to the meticulous takedown at the end of the season, we handle it all. This means you can relish in the enchanting ambiance of your well-lit landscape without worrying about maintenance or storage of Christmas lights.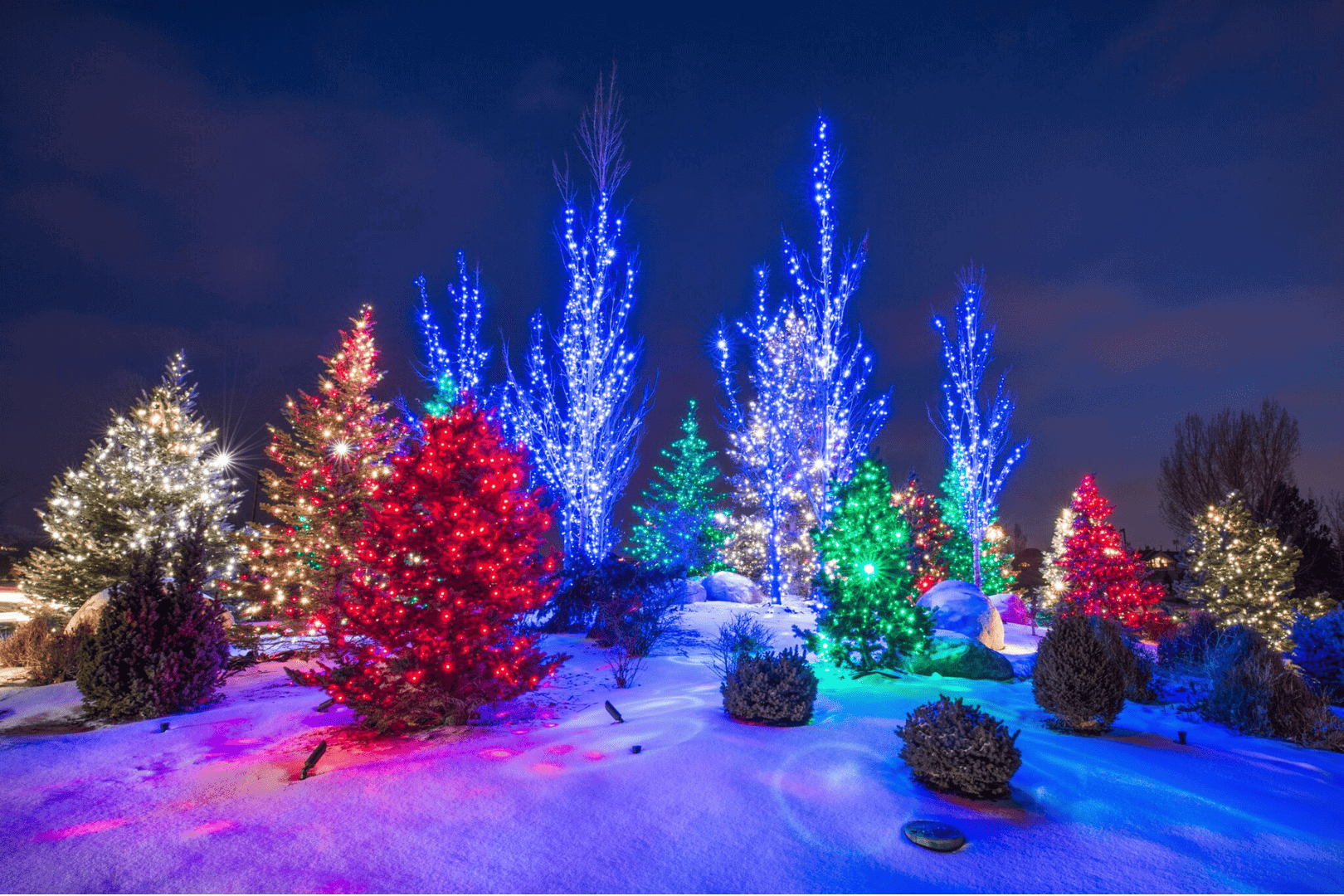 Value to Businesses
When it comes to businesses and municipalities, the value of professional tree lighting services extends far beyond mere aesthetics. The art of tree lighting, be it coloured, string, or uplighting, plays a crucial role in creating a vibrant, inviting atmosphere that can significantly benefit local commerce and community spirit.
Enhancing Local Appeal with Seasonal Holiday Lighting
The use of seasonal holiday lighting, including vibrant colored lighting and elegantly designed string lighting, transforms commercial areas into enchanting destinations that draw visitors, shoppers, and tourists. Businesses, in particular, stand to gain from the magical allure of holiday lighting displays. These captivating displays not only increase foot traffic but also extend the shopping hours into the evening, boosting sales during the festive season.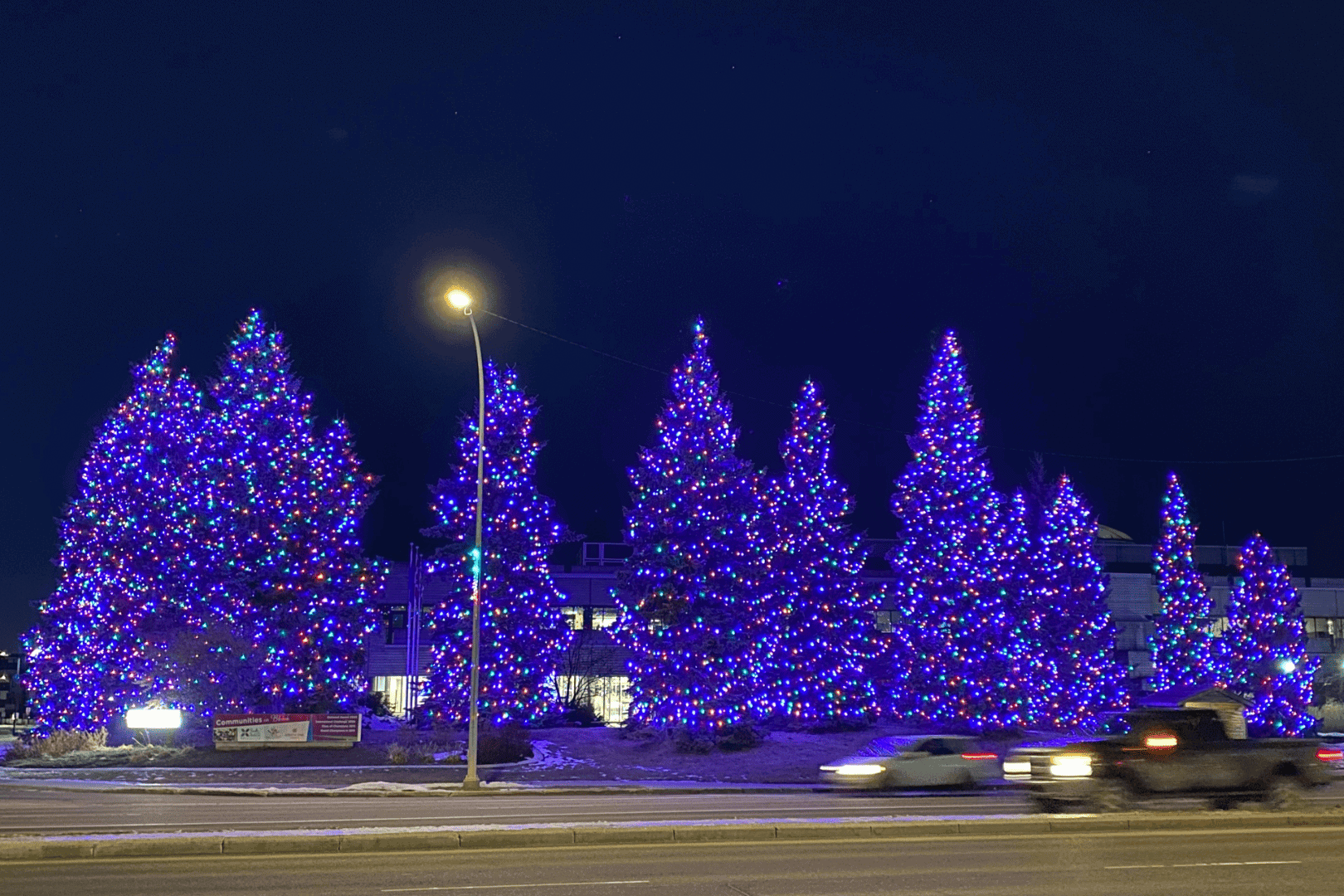 Value to Municipalities
Municipalities, on the other hand, recognize the importance of fostering a sense of community pride. Expertly executed tree lighting services instill a sense of unity and belonging among residents. The beauty of well-lit streets, parks, and public spaces not only spreads holiday cheer but also reinforces a positive image of the community, attracting both residents and potential investors.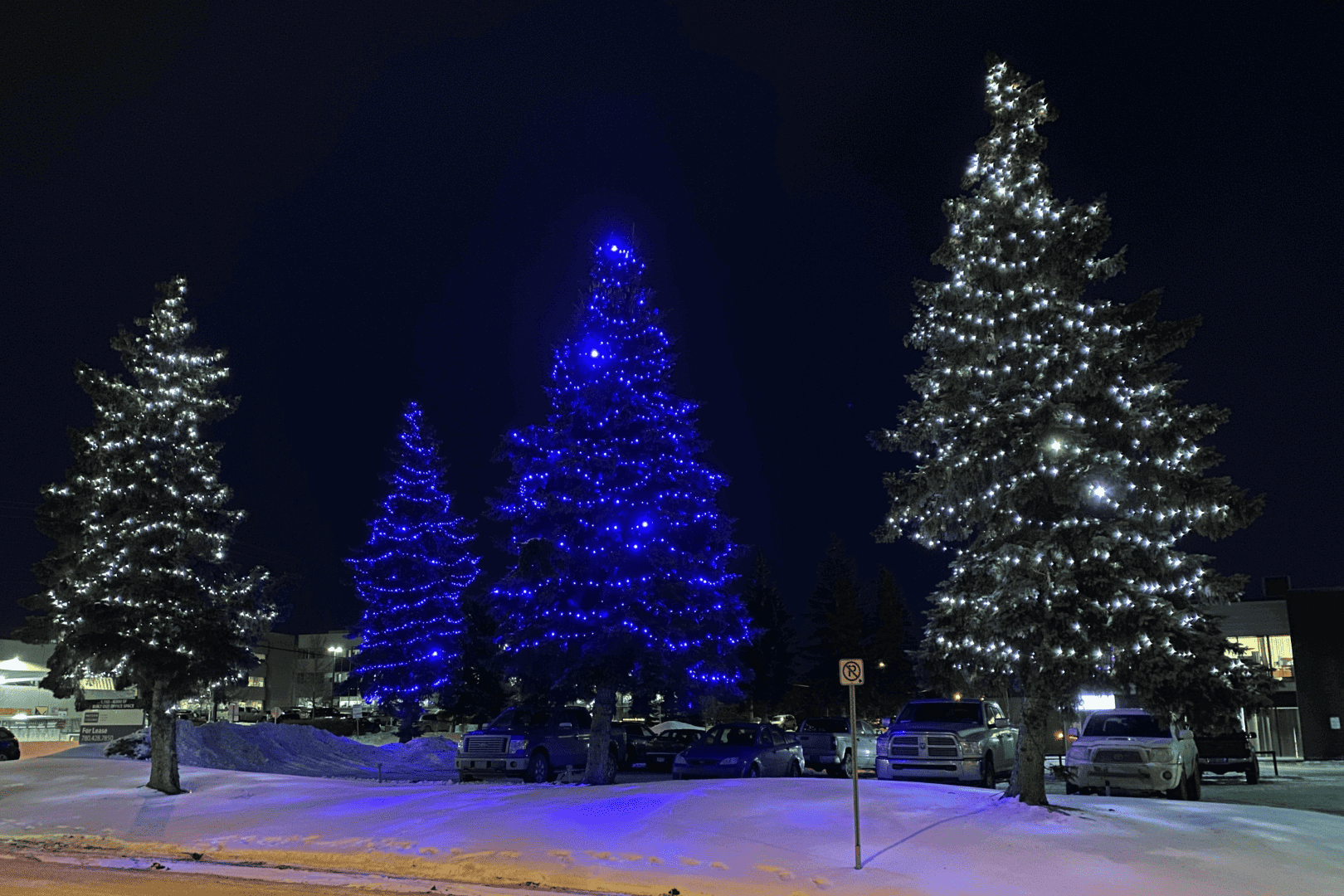 Saving Time, Effort, and Ensuring Safety for Residential/Homeowners
For homeowners, the idea of ascending tall ladders in the cold winter months to decorate trees with holiday lighting can be daunting, not to mention potentially hazardous. This is where professional tree lighting services step in to provide invaluable assistance.
Efficiency and Safety with LED Bulbs
Our services incorporate the use of efficient LED bulbs, which are not only visually stunning but also eco-friendly and energy-efficient. LED bulbs outshine traditional bulbs in both longevity and energy conservation. Homeowners can enjoy the festive ambiance without worrying about frequent bulb replacements or soaring energy bills. Moreover, LED bulbs emit less heat, ensuring a safer and more comfortable environment for all.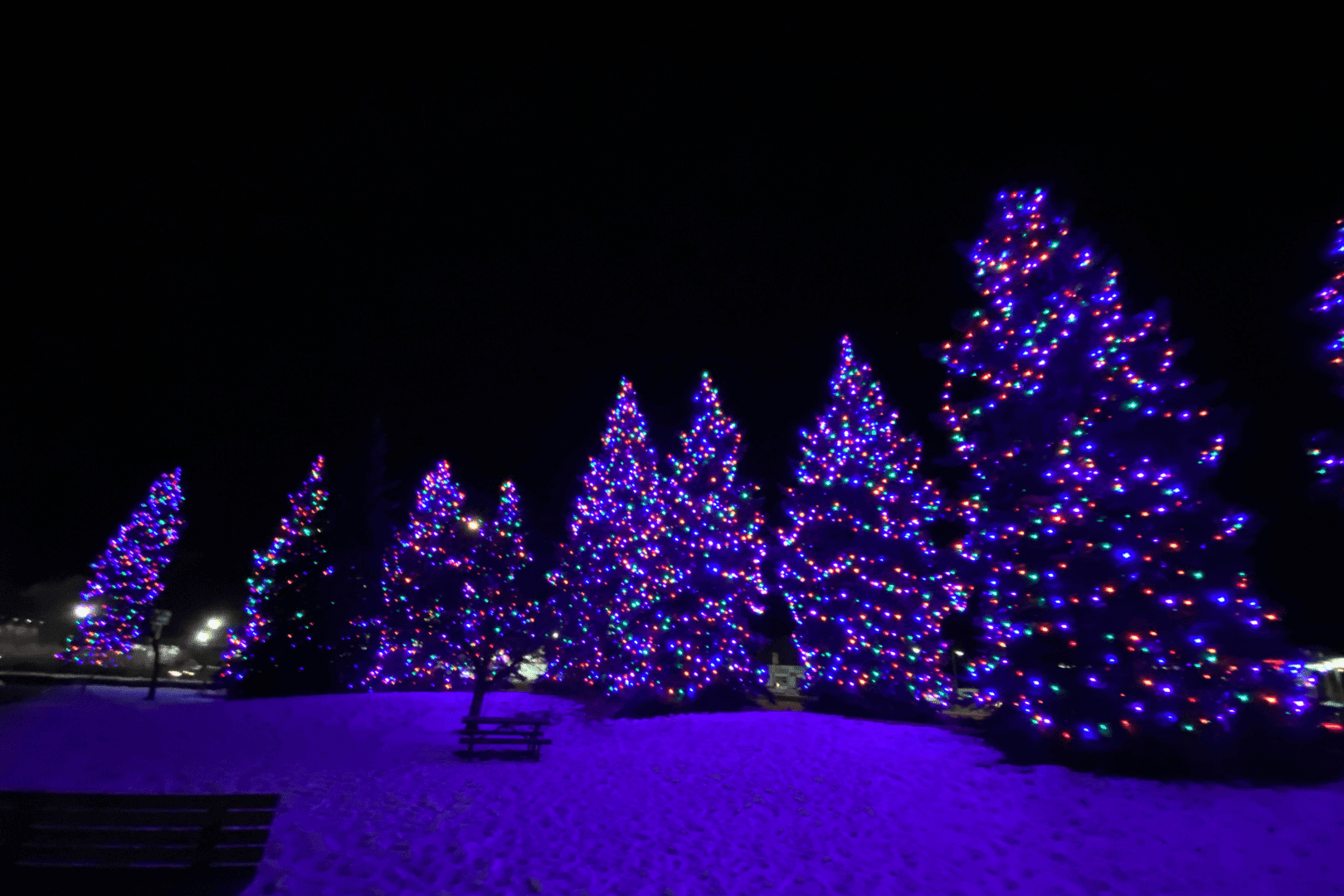 Full-Service Christmas Lighting Installation
One of the most appealing aspects of our tree lighting services is the full-service package. We handle everything from design and setup to meticulous takedown, offering homeowners a stress-free holiday lighting experience. Say goodbye to the hassle of storing and untangling strings of lights or struggling with complex installations. We ensure that your seasonal Christmas light displays are installed securely and are removed promptly, leaving you with nothing but cherished memories of a beautifully illuminated holiday season.
Businesses, municipalities, and homeowners alike can benefit from professional tree lighting. Our decorative tree lighting services bring not only enhanced aesthetics but also efficiency, safety, and a profound sense of holiday joy. With our full-service approach and commitment to LED technology, we make the magic of tree lighting accessible to all, allowing everyone to bask in the warm glow of the holiday season without the fuss or risk of climbing an icy ladder in the snow and cold.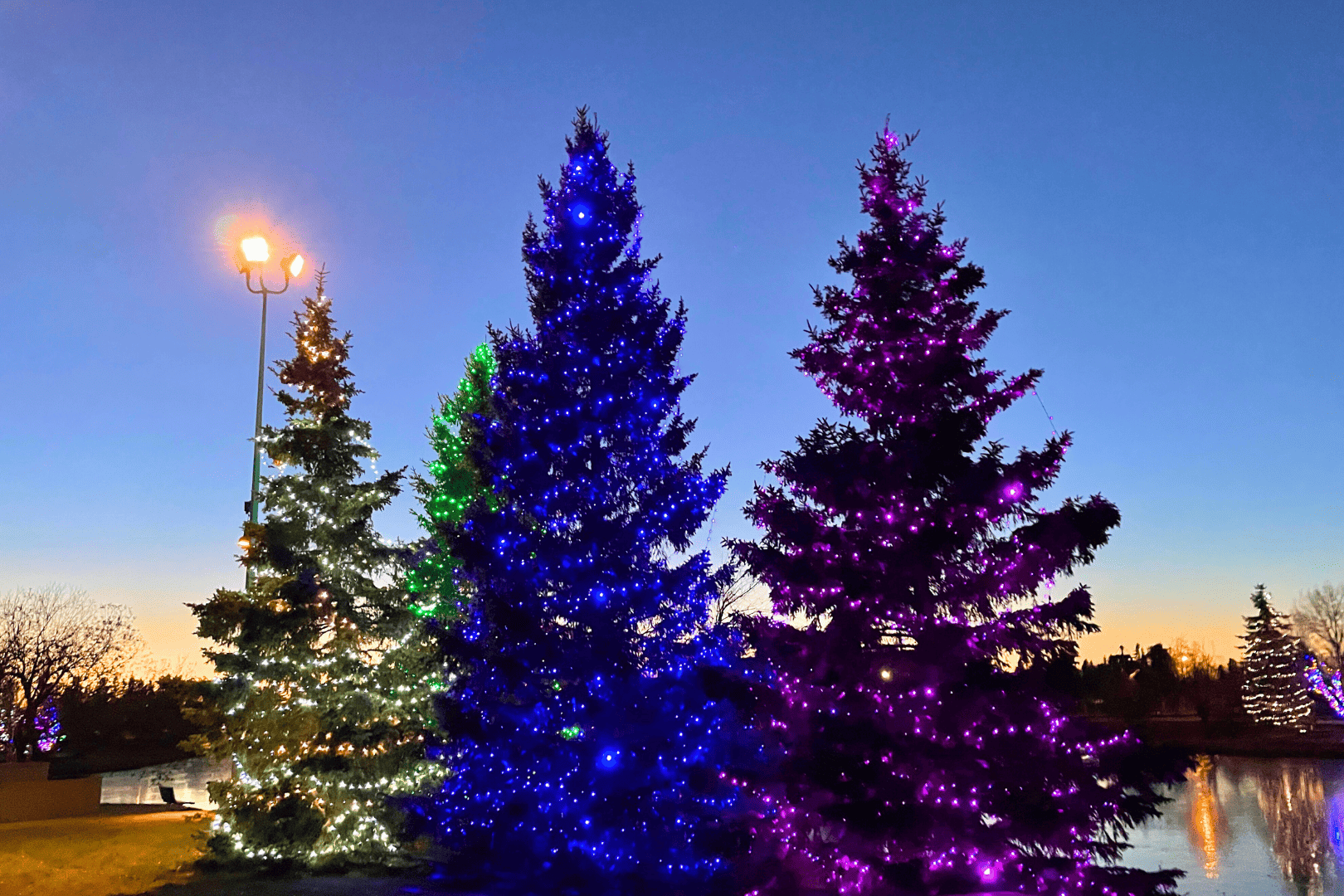 Our Service Locations
Full Service Christmas Tree Lighting
Experience the magic of the holiday season with our professional Christmas tree lighting installation services, now available in Edmonton, Calgary, Airdrie, Cochrane, and Chestermere. Our easy-to-use, comprehensive service takes the hassle out of decorating, making it a breeze for homeowners, businesses, and municipalities. Let us transform your space into a festive wonderland, ensuring your Christmas tree shines brightly, and creating memories that last a lifetime.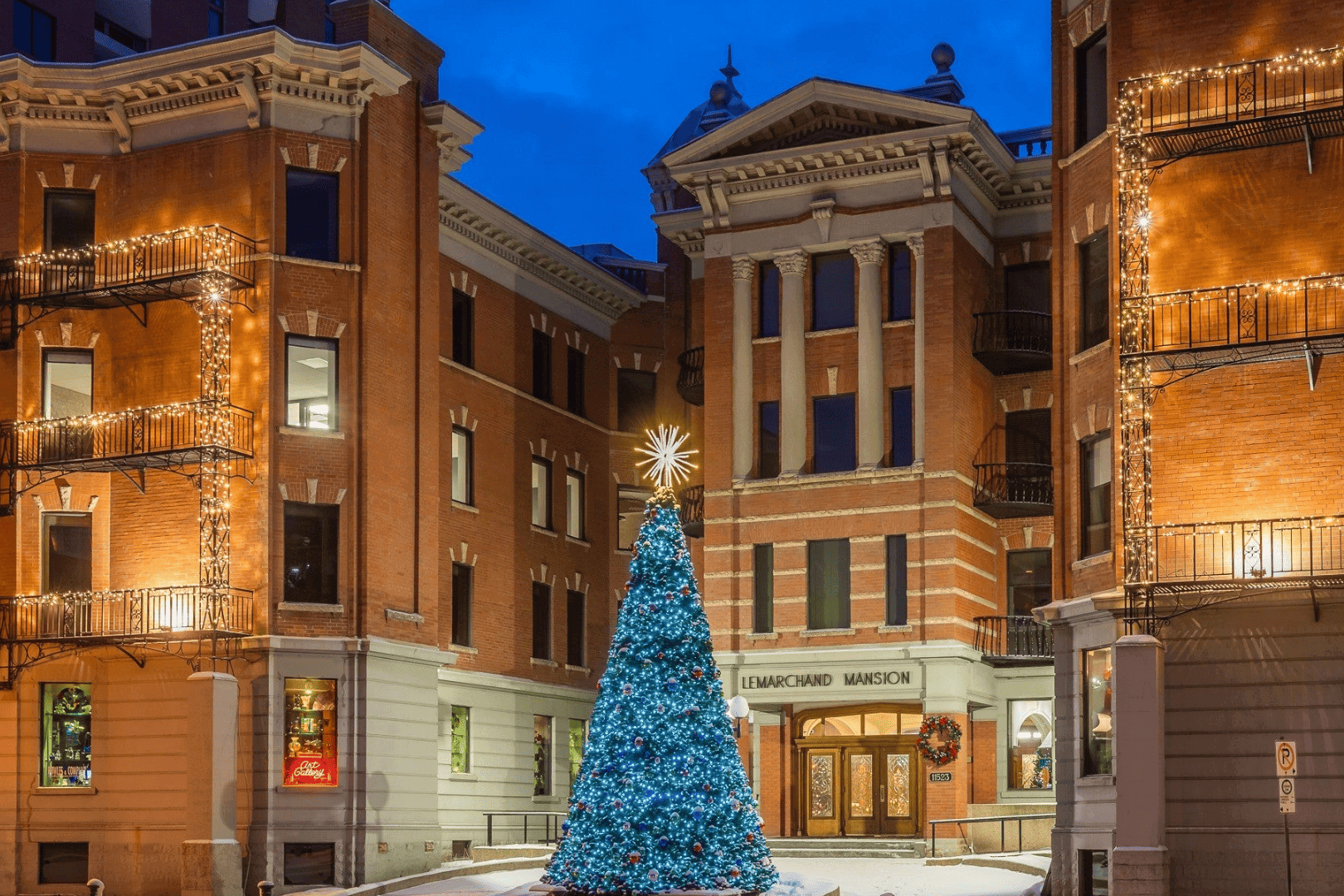 Frequently asked questions
We now have an FAQ list that we hope will help you
answer some of the common Christmas Tree Light Installation questions.
1. Are there energy-efficient options for Christmas tree lighting?
Yes, there are energy-efficient options available for Christmas tree lighting. LED (Light Emitting Diode) lights are a popular and eco-friendly choice. Here are some key benefits of using energy-efficient LED lights for your Christmas tree:
Energy Savings: LED lights consume significantly less electricity compared to traditional incandescent lights. This translates to lower energy bills and a reduced environmental footprint.
Longevity: LED lights have a much longer lifespan than incandescent bulbs, lasting up to 25,000 hours or more. This means you won't have to replace them as often, saving you money in the long run.
Safety: LED lights emit very little heat, reducing the risk of fire hazards, especially when used on dry Christmas trees.
Bright and Vibrant Colors: LED lights produce bright and vibrant colors, making your tree look stunning and festive.
Versatility: LED lights come in a wide variety of colors, shapes, and sizes, allowing you to create custom lighting displays that suit your holiday decor.
Environmentally Friendly: LED lights are free of toxic materials, making them environmentally friendly and easy to recycle.
So, whether you're decorating your home, business, or municipality, consider opting for energy-efficient LED lights to brighten your Christmas tree while saving energy and reducing your carbon footprint.
2. Are there options for different lighting themes or colours?
Absolutely! When it comes to Christmas tree lighting, you have a wide array of options to create the perfect theme or colour scheme to match your holiday decor. Here's what you can consider:
Multicolor: Traditional multicolor lights are a classic choice, adding a nostalgic and cheerful touch to your tree.
Warm White: Warm white lights create a cozy and inviting atmosphere, perfect for a traditional or rustic theme.
Cool White: Cool white lights offer a contemporary and elegant look, ideal for modern and minimalist decorations.
Single Color: If you have a specific color scheme in mind, you can choose lights in a single color that complements your overall decor.
Bicolor or Multicolor Changing Lights: Some LED lights come with features that allow them to change colors or display multiple colors, adding dynamic and eye-catching effects to your tree.
Twinkling or Fading Lights: For a touch of whimsy, consider lights that can twinkle, fade in and out, or create other animated effects.
Customizable Patterns: Advanced lighting systems may offer customizable patterns and sequences, letting you design a unique lighting display.
Themed Lights: Look for lights designed to fit specific themes, such as snowflakes, stars, or candy canes, to enhance your tree's overall look.
Remote Control: Some lighting sets come with remote controls, allowing you to change colors and patterns with ease.
Whether you want a traditional red and green Christmas theme, a winter wonderland in icy blue and silver, or a unique and vibrant colour scheme, there are endless possibilities for creating the perfect lighting theme to match your holiday vision.
3. What is the maintenance for Christmas tree lighting displays?
At Five Star Holiday Decor, we understand the importance of hassle-free holiday decorating. That's why we offer a comprehensive set-up and take-down service for all your seasonal lights at the time of your choosing. Here's what you can expect:
Set-Up:
Installation: Our professional team from Five Star Holiday Decor will expertly install your Christmas tree lighting display, ensuring every bulb is secure and the design is just as you envisioned.
Safety Checks: We perform thorough safety checks during installation to make sure all electrical connections are secure, reducing the risk of hazards.
Customization: If you have specific preferences or want to make changes to your lighting display, just let us know. We're here to make your vision a reality.
Take-Down:
Scheduled Removal: When the holiday season is over, we return at the time of your choosing to carefully take down your Christmas tree lighting display.
Storage: We ensure that all lights and decorations are properly removed, neatly organized, and safely stored for the next season.
Maintenance: Before storing the lights, we perform any necessary maintenance and repairs to ensure they're in excellent condition for the following year.
Year-Round Support:
On-Demand Service: If you encounter any issues with your lighting display during the holiday season, our Five Star Holiday Decor team is just a phone call away to provide timely maintenance and repairs.
Flexible Scheduling: We work on your schedule, making it convenient and stress-free to enjoy the holiday season without worrying about maintenance or storage.
With our comprehensive set-up and take-down service, you can relax and enjoy the holiday season to the fullest, knowing that your Christmas tree lighting display by Five Star Holiday Decor will be expertly maintained and stored for the next year.
4. How can seasonal tree lighting benefit my business?
How can seasonal tree lighting benefit my business with Five Star Holiday Decor?
A: Seasonal tree lighting can be a significant asset for your business, and at Five Star Holiday Decor, we understand the impact it can have. Here are some ways our services can benefit your business:
1. Attracting Customers: A beautifully lit tree can draw attention and attract potential customers to your business. It creates a warm and inviting atmosphere that encourages people to stop by.
2. Creating a Festive Atmosphere: Seasonal tree lighting adds a festive touch to your business premises, putting both customers and employees in a joyful holiday spirit.
3. Enhancing Brand Image: A well-decorated tree with your business's colors or branding can reinforce your brand identity and leave a memorable impression on customers.
4. Increasing Foot Traffic: The allure of a beautifully lit tree can increase foot traffic around your business location, potentially leading to more sales and exposure.
5. Social Media Opportunities: A stunning tree can be a social media magnet. Customers may take and share photos of your tree, effectively advertising your business for free.
6. Community Engagement: Decorating a tree can also be a way to engage with your local community, showing your support for the holiday season and building goodwill.
7. Competitive Advantage: Outshining competitors with a captivating tree can give you a competitive edge during the holiday season.
8. Employee Morale: Decorating the workplace can boost employee morale, fostering a positive work environment.
9. Customization: Our services at Five Star Holiday Decor allow you to customize your tree lighting display to align with your business goals and style.
10. Hassle-Free Service: We take care of everything, from installation to takedown and storage, so you can focus on running your business.
By partnering with Five Star Holiday Decor for seasonal tree lighting, you can leverage the festive spirit to benefit your business in multiple ways, all while providing an enjoyable experience for your customers and employees.
5. How can tree lighting benefit our community?
Tree lighting can have a significant positive impact on your community, fostering a sense of togetherness and holiday spirit. Here's how our services at Five Star Holiday Decor can benefit your community:
1. Community Gathering: A beautifully lit tree can serve as a central gathering point for community members to come together and celebrate the holiday season.
2. Festive Atmosphere: The tree creates a festive atmosphere that uplifts spirits and spreads joy throughout the community.
3. Tradition and Unity: Tree lighting ceremonies can become cherished community traditions, strengthening the sense of unity and belonging among residents.
4. Attracting Visitors: A well-decorated tree can attract visitors from nearby areas, potentially benefiting local businesses and the economy.
5. Positive Public Image: A community that invests in holiday decorations demonstrates care for its residents and can enhance its public image.
6. Charity and Fundraising: Tree lighting events often present opportunities to collect donations or raise funds for local charities and causes, benefiting those in need.
7. Creative Expression: Tree decorating contests or community involvement in the decoration process can encourage creative expression and bring residents together.
8. Tourism and Promotion: A beautifully lit tree can be a tourism draw, encouraging visitors to explore the community and its offerings.
9. Year-Round Benefits: A well-maintained tree lighting display can have a positive impact beyond the holiday season, promoting community pride and engagement throughout the year.
10. Safe and Professional Service: With Five Star Holiday Decor's expertise, your community can enjoy a safe and professionally executed tree lighting display that enhances the overall experience.
By partnering with Five Star Holiday Decor for tree lighting services, your community can create a memorable and unifying holiday tradition that brings residents and visitors together, fostering a strong sense of community spirit and pride.
6. What sets us apart from other holiday tree lighting services?
Five Star Holiday Decor distinguishes itself through its commitment to excellence, creativity, and customer satisfaction. We offer customized tree lighting designs, professional light installation, maintenance, and hassle-free removal at the end of the Holiday season, all tailored to meet your specific needs and preferences.
7. How do I request a quote for your tree lighting services?
Requesting a quote is easy! Simply contact our friendly team at Five Star Holiday Decor through our website or phone, and we'll schedule a consultation to discuss your vision, budget, and any specific requirements. We'll then provide you with a detailed quote for the Christmas lighting design that suits you best.
8. How far in advance should I book our holiday lighting installation?
We recommend booking your holiday lighting services with Five Star Holiday Decor as early as possible. The holiday season is a busy time, and scheduling in advance helps ensure you get the installation date and design you desire. However, we'll do our best to accommodate last-minute requests when possible.
Five Star Lighting Services
We believe in sustainable practices and use only energy-efficient LED lights in all of our lighting installations.
Residential Lighting Gallery
The right light, in the right place, within your budget.
Your Residential Christmas Lighting Has Never Been Easier
We can't wait to chat with you about your residential holiday lighting so that we can help you illuminate your holiday!